2014 Day 2
Swallwell to Bishop
Colin's planning again
| | | | |
| --- | --- | --- | --- |
| Bike Ride | | Swalwell to Bishop | Day Three |
| | | | Distance 36 miles |
| Map point place | Distance | Running Total | Notes |
| | | | at 8 mph = 4hrs 30 min |
| Swallwell | | | |
| Consett | 12 | 12 | |
| Langley Park | 9 | 21 | |
| Willington | 10 | 19 | |
| Bishop | 5 | 15 | |
We decided to meet at Swalwell Country Park visitor centre.
Amanda and Stephen are collecting Lee, We would take Christopher.
Christopher was unable to come on day two due to unforeseen circumstances,
so Colin and Karen head off to the meeting place. Amanda rings the mobile,
The Rugby club next door has a boot sale on a Sunday morning, its chaos.
they have had to drive past and are parked in the Leisure Centre car park along the road.
Oh well, planner cant get it right all the time! We arrive after having to queue to drive past the start point,
saddled up and on our way back past the Rugby club dodging pedestrians and cars,
onto the route and up to the visitor centre.
There is a gate leading onto the cycle route, Anyone who knows the area will be aware Consett is a very high point in Co Durham,
we are starting from river level so know its going to climb all the way.
Fortunately the Victorian railway engineers knew what they were doing and the climb is very gradual, we can big ring it all the way.
The route goes over magnificent viaducts with amazing views down into valleys, we cant believe the beauty just outside Gateshead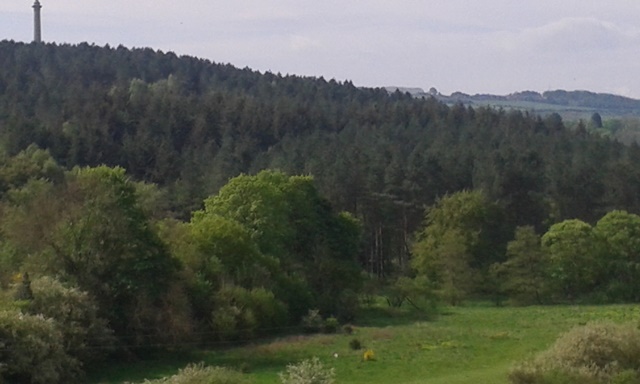 No roads in sight, only way to this view is walk or cycle
Only down side is the trees attract a lot of midges, Christopher would have had more than enough to eat today.
The route has lots of tracks leading off both sides disappearing into woods, Lee is wanting to divert off route and explore,
He agrees to stay on route but is determined to come back again to explore all the tracks another day.
There is a short section of half a mile on paths beside the road at Rowlands Gill then we are back on the railway line,
we pass through a gateway, someone has left a box of tyre self adhesive patches on a gate post, They are the type Lee uses,
I look inside and find there are still half a dozen left so give them to Lee.

Then still gently climbing we come through Ebchester and into Consett.
Consett has two route options, I take the lead as I have programmed the sat nav to take us past McDonalds,
we go past some houses and up through the park where a dog show is going on.
Its a lovely warm sunny day with lots of people around. We stop at McDonalds for refreshments,
its busy with people and many cyclists having refreshments.
Then following the sat nav we drop back down past an industrial estate and back on route to Bishop.
It is a a crossroads and a busy junction for cyclists, but the sat nav and the sign post point us the way to Lanchester.
| | |
| --- | --- |
| A lot of other cyclists at the junction | The sign pointing to Lanchester |
| | |
| --- | --- |
| The route to Lanchester straight and downhill | sat nav showing straight route and surface rushing past below. |
We make good time, Stephen asks when do we come to the next climb,
I tell him there is none, just one little steep hill after the Durham turning,
I think they find it hard to believe we can cycle right through Co Durham on flat off road tracks.
We stop at Willington for an icecream, another hot day cycling.
Stephen asked for arse cream but the owner was from Yorkshire so sold him ice cream
We discuss a few options for the planned 2015 Scotland ride, Colin needs to revisit plans for that one.
We arrive home and once again bang on the mileage

| | |
| --- | --- |
| Day two bang on mileage again | Disadvantage of cycling wearing sun cream,, the dust sticks |
Lee has enjoyed it so much that he declines offers of lift home and cycles back to Darlington
Two warm sunny days with only gentle breeze very rare for our cycling holidays but most welcome.
Might do a couple more ride outs this year but already planning 2015
© This site is copyrighted, Mal and the Multiday men ©