La Rencontre Multidaymen la Toure de France.
Yes thatís the title, Two of the original Multidaymen ride again.
Plus Karen over the years our Number 1 supporter. A multiday woman veteran of all the rides.
It had been quite a traumatic time over recent months, Our father sadly passed away after a long illness. Plus Jill had to have surgery for breast cancer.
However The Tour de France Grand depart in Yorkshire was big business and living in North Yorkshire you couldn't help BUT be sucked in to Tour Fever. yellow bikes appearing on every wall and street corner, French flags etc. etc.
So I was really pleased when Colin said he and Karen were going to travel down to my house to watch the tour and what did I suggest. Parking was at a premium, roads would be closed from early morning. So living 4 miles from the route was a bonus. We could cycle down to watch.
On the Friday afternoon I was working in Harrogate so in the pouring rain I had a walk around the finish on the Stray. Wow I had not realized how big business it was. Fan Park plus vehicles and media from all over the world. I had also called into Ripon lots of Tour tourists walking around.
Saturday morning at Marton le moor on 5th July. After a wet overnight deluge. It dawned fine and warm and sunny and no wind. The tour was due to pass through Ripon from 2pm onwards Colin and Karen arrived around 12 noon, Colin had the bikes offloaded and up and running in minutes, Colin on his trek racing bike that is a commerative limited edition to Lance Armstrongs 7 tour wins, hope he doesn't get booed. Karen was on Colins Merida mountain bike.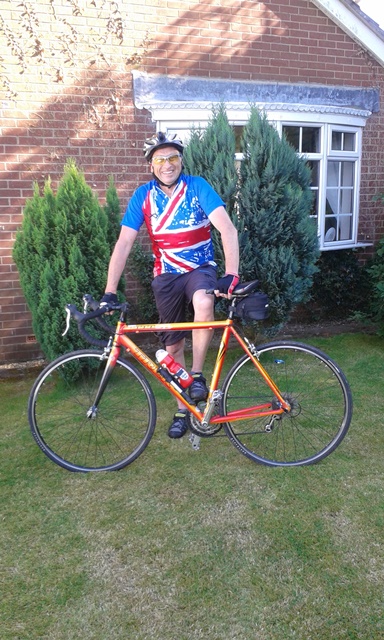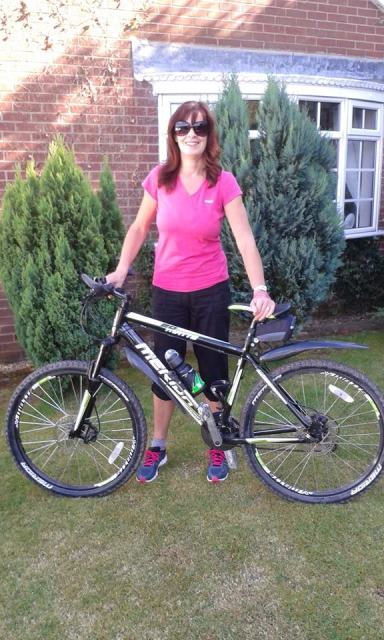 We had a coffee and some pics before setting off. My task was to find a good place to watch The Race. We cycled out up Cana Lane and down towards Sharow, nice and sunny and a nice steady pace. No one was around and this would not last.
We got onto the Sharow Lane and despite the road closed signs there was a steady stream of cars going towards Ripon. As we neared Sharow one family had parked at the top of the bank and were off loading bikes you had to smile. Then into Sharow cars parked up every street, cricket field open for parking even a chap had opened his paddock and painted stones yellow to point out Tour parking.
At the bottom of Sharow lane it was wall to wall people usually this is a sleepy backwater.
We got down onto the by pass, now find a spot to view. A marshal jumped on us asked where we were going. Don't ride your bikes he shouted. Then (as everyone knows on multiday men trips something funny always happens.) we were pushing our bikes to go along the by pass, when a young police officer said the road is closed you cant ride your bikes. I noticed his helmet badge was Northumbria Police, I said to him what's Northumbria doing all the way down here. He said how do you know I am from Northumbria, I said its says so on your helmet. He then took off his helmet and looked at his badge, much to the amusement of everyone especially his female colleague.
He said well I can stop you riding but I cant stop you walking and if you are pushing a bike so be it.
So we walked and found a good spot right in front of an RAC van managed to take over a section of crash barrier to sit on too. It was a great spot on a sweeping bend we could watch the passing show. We even had red wine, French of course, brie and pate for lunch. The Police bikes, Entertainment and promotion vehicles the media its was endless everything from a Vintage car to a fruit shoot.
Then the riders themselves you knew they were arriving as the helicopters circling got closer and when they passed I will always remember the wind they generate, amazing everyone applauded and cheered all the riders. It must Have taken 3 1/2 hrs. for everything to pass, we then cycled up to Ripon Market place a spectator hub to watch the finish on the big screen, along with 1000's of others.
Now the cycle home along the via the racecourse through the crowds, but after passing over the river and turning right towards Skelton we were back in quiet countryside once more.
A multiday men ride I had even put my panniers on. As we cycled along Skelton Colin summed up what I was thinking, I have missed our Multiday men trips. Yes I have too Colin.
We cycled up through the farm lanes back too Marton le moor a 10 mile round trip in the sunshine. Karen did well too.
We finished off the day with a lark about me and Colin with bikes and flags, Karen on the camera,
then BBQ in my back garden and a couple more glasses sitting in the sunshine.
The perfect end to a near perfect day.
THE ORIGINAL MULTIDAYMEN WILL RIDE AGAIN
© This site is copyrighted, Mal and the Multiday men ©