COLINíS C2C CHALLENGE
All decided in a rush as usual. The C2C was a challenge I had considered for a few years now.
I fancied trying to do coast to coast in a day. I had considered making it a 50TH Birthday task but with my eldest daughter Amanda getting married that year I had not got the training in. I had bought a racing bike some 2 years earlier for £10 and fitted new tyres and tubes and lavished some TLC or Colinís magic, and it was running really well.
Looking at the calendar on Thursday 3RD August I realised that the long light nights were shortening and with all the future plans coming up it was attempt it on Sat 5 Aug or another year would be past.
I checked with Karen and she could do the dropping off and picking up so a quick look at the map to confirm the route and it was decided.
The plan was leave home 6 am Saturday arrive at Port Carlisle for 8 AM, That is where the Solway Firth Meets the Irish Sea. Then saddle up and cycle through Carlisle, Brampton, Pick up the B6318 follow it to Heddon on the Wall along to Throckley, drop down to the Tyne and follow the Tyne to where it joins the North Sea.
Mileage approx. 85. I worked out some timings, Start at 8pm arrive Brampton 10am, rest stop. On to Chollerford for 1.15 pm rest stop. Tyne Bridge for 4 pm finish 5pm. That would be 9 Hours.
So Saturday arrives. As usual got off to a late start, left home 7am. Last minute decision and took the mountain bike as a spare just in case, I loaded the bikes into the car boot while Karen made sandwiches and drinks.
Arrived Port Carlisle. 9am. having driven up to the B6318 and followed it along from Corbridge as quick reconnoitre of part of the route. I had driven it before but not for some years and I remembered it as gently undulating. A stop in Carlisle for fuel on way out and we were only an hour behind schedule .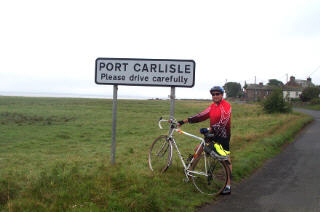 By the time the bike is unloaded and bag fastened onto luggage rack,( I have Karen as back up but still adhere to carrying my own kit) Spare shirt , waterproofs RedBull type drink for energy and chocolate bar all in bag.
The usual photo calls. Karen missed the one where I fell off the bike. I have the cleat pedals and shoes that clip together, but sometimes donít get my foot out in time and fall over as I am unable to put my foot down.. I had tried to stop at the village sign and grab it with my hand but missed and fell over. A good start, Cool day little bit drizzle late start and fell off , luckily Karen missed the photo opportunity.
So at 9.20 I start the long ride to the Tyne.
The Road to the west of Carlisle is cycling heaven, Flat and quite with a lovely surface like a French motorway. With very little effort I am sailing along at 23 MPH. Karen drives past with a pip and a wave, Then I am alone. Going past a few walkers who had a bus waiting for them and a couple of cyclists who were pushing their bikes laden down with kit. It is an uneventful ride into Carlisle.
Once into the town there are cycle routes that I follow until I am through the centre and climbing a gentle rise over the M6 and towards Brampton. The rain is getting heavier and the dye is coming out of my gloves staining the white handlebar wraps a strange dark blue. It is tempting to push harder on the pedals but I resist and keep a steady 15-17 MPH so I donít tire too early.
Arrived at Brampton 10.45, so now only 45mins behind schedule I was very pleased. Rang Karen "where are you?"
"I am 4 mile away, are you there already?"
We meet up in the car park take a drink and a Snickers Bar, then onward before my muscles cool.
I take a wrong turn out of Brampton and have a steep climb up onto the A69, then a rally down to the place I should have joined the road, that would have been a flat route out. Oh well the penalties for not reccying the route.
A few mile along the A69 keeping tight to the kerb. What a busy road this is and I am glad when I come to the junction that I can leave and join the B6138. Instantly there is a very steep climb, beside the road is a specially made cyclepath. I decide to ride on the cycle path. Not the best of ideas as it is steeper than the road and loose shale so hard pressure on the pedals caused the back wheel to slip. Eventually it levels off and it is very pleasant riding on the traffic free undulating cycle path, and the rain is even easing off.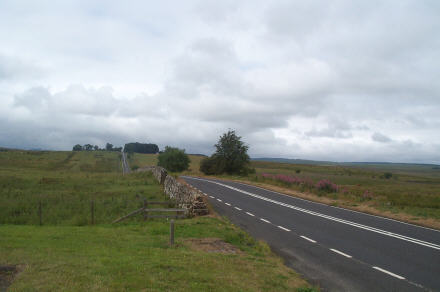 I hadnít put my waterproof jacket on as I would have been too hot, so now it is nice to start and dry off in the breeze. The road is quiet and gently undulating, but the ups are still long and drawn out and racing bikes donít have low gears for hills so its stand up and press hard to climb the hills. Still the route is over the Pennines so it is to be expected.
As usual the sun comes out and the climb is really hot, now my shirt is wet with sweat, but I decide to keep going as the next rest stop is not far away. I pass the points that the alphabet routes crossed this road and let my mind wander for a while.
Then a long down hill towards Chollerford. Itís a lovely feeling rallying for two miles at 30mph, but I still keep the legs turning to stop my leg muscles getting cold. At the bottom of the hill is a cafť, Karen is sat outside with a cup of tea and is surprised when I turn up as it is 1.15pm I am on time for my original schedule, I have made up over an hour on my planned timing. I strip off my cycling top and sit in my T-shirt while Karen gets me a cup of tea. Its pleasant sitting in the sun, then Karen asks where the route goes next . "Over the bridge and straight on" I say. "Up that steep hill"! That was not what I wanted to hear, Its very steep much steeper than the road from Carlisle to here.
Well it has to be done so I change out of my T-shirt into my short sleeve cycle top, saddle up and arrange to meet at a lay-by for some grub.
Karen was right it was a very steep hill and very long. As cars pass I was listening to them climbing on and out of sight , sometimes having to change gear. It was hard to keep going knowing it was still a long hard climb, at least it was tree lined so I was in the shade.
Eventually it tops out and I can see Karen in a lay-by, I pull in puffing and panting and have to wait a few minutes before I can manage to eat a sandwich.
It was a lovely spot by a battlefield and a church , the whole route follows Hadrians wall so there were lots of walkers and tourists, but only one cyclist, me.
Next meeting place Heddon on the Wall. I was 20mins behind schedule as I had not anticipated that steep long climb, but I was determined not to worry about timings, as long as I finished.
Karen set off and I followed. This was my lowest point and the rides highest point. The climbs just kept coming and coming. A steep rise followed by a short level few yards then a steep rise again.. At one point I was looking down on a radio booster mast. It must start to fall away soon I thought, my legs were aching and my speed was dropping. You know when youíre tired, at every little rise you are down the gears and hurting. Then it starts to fall down towards Heddon on the Wall. But no it rises again to go over the A69. Then drops on the other side only to rise into the village. Karen sends me a text to say she is waiting at the Three Tuns. Thankfully itís right on route. I see her walk out onto the road to take a photo, so I have to speed up and look fit, ouch my leg muscles.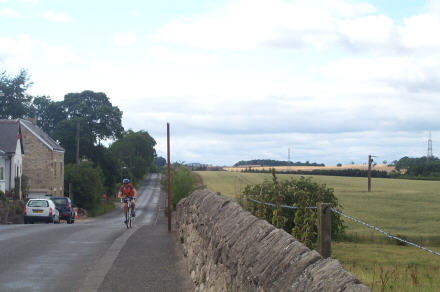 I am still a little behind the schedule time of 2.45 PM but feel happy that the hardest part is over. I know its just a little undulating road to Throckley then downhill to the Tyne and flat to the coast.
I take a long break, drink plenty of fluid but am unable to face eating, hard exercise always does that to me.
Then onward again, the road to Throckley is easy , then starts to descend. Karen goes past and approaches the roundabout where she needs to turn right. I put on a spurt and signal so she can see the direction I intend to take. We turn down towards the Tyne "hooray" a lovely downhill section. Karen leading in the car I was keeping up with her doing 30mph, and still two cars had to go past me, just to prove a point I suppose.
Down to the Tyne I drop onto the cycle path beside the river and through the new area thatís all offices. Karen drives through the city . I approach the Tyne bridge going under it on the cycle path right along the quayside, all the people are walking and sitting at the bars itís a lovely spot. Glancing at my watch I see its 4.05pm only 5 mins behind original schedule. Even if I wanted to push hard to make up the little time difference it would be impossible on a Saturday as the quayide is dual pedestrian and cyclist so you have to ride carefull. I decide to clip my feet out of the cleats in case I need to stop quickly. As I approach the Tyne Millennium "Blinking Eye" Bridge I decide as I am this close I will cross over and back. At the other side I turn around on the way back pass the same cyclist I had passed going over, seems like he was doing the same thing on the bridge, but didnít look like he had cycled from Carlisle. We smile and laugh at each other. Then I am back on the Newcastle side and heading towards Tynemouth.
Karen rings "I am in Walker and can see a sign for a Riverside Park should I wait there for you"?
Knowing the area I suggest she keep the car locked and just makes her way to the end of the route.
Following the river I come to the shipyards then a diversion. We all know how these can be a bad move but as I have a good idea of where I am and where I am going I decide to follow it.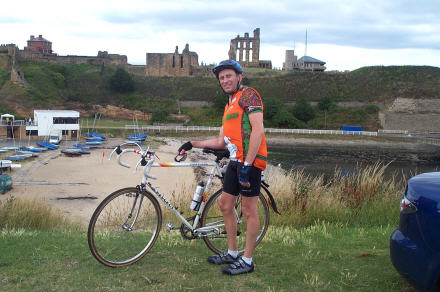 It is a very minor diversion and soon I am on a cycle path thatís flat with a firm surface and trees both sides , very nice. The only downside is the signs keep changing their mind on distance, Tynemouth 7miles, then 61/2 then 7 then 5 then 61/2 again I decide to stop looking at the distance as I donít want to burn my legs out at this late stage. Pass the Tyne tunnel and into North Shields at the Royal Quays shopping outlet, Then around some houses by the harbour. What a lovely spot. Not for long it soon degenerates into old buildings and an industrial area. A little climb away from the river up towards the town centre of North Shields then back down through the fish quays. The smell was awful, especially as I am now breathing very deeply. Then all of a sudden I can see the sea and a blue sign C2C finish and start, Yes it is up a small climb that feels like a mountain to me. Down the gears and stand up on the pedals one last time, up the hill and into the carpark where Karen is waiting. A lot of people must have been doing the Rievers and have been coming in from the north so Karen is looking in the wrong direction, I shout and whistle, but she fails to see me until I ride up to her.
I put the bike on the stand and look at the cycle computer distance covered 90 (well 89.89) and my watch 5.20, I had done it in 8 hours. An hour less than my anticipated time and I thought that would be hard to achieve, I was well pleased. I lay on my back on the grass, I think I would have done the same if it had been raining. Finished off the drinks, Still could not face any food so Karen bought me an ice cream .
After I had recovered we loaded the bike into the car. I hadnít needed the spare bike it had all ran perfectly. I asked Karen to drive. "You do realise" I mused on the way home "I am only 10miles from doing 100miles in a day, I think I will do that when I get home then thatís another achievement."
So at home the bike was unloaded and I set off to do a further 10 miles. It was hurting and I was picking the flattest route possible around home, funny how dead flat roads now all have an incline!
After three mile two young boys came pedalling up behind me
"letís race him" I heard one say, so as they drew level they shouted "go" and went as fast as they could.
Well I couldnít let then get away with that so up of the seat again and there we were two young lads on mountain bikes against me on a racing bike. I was putting that much effort into it that my front wheel was lifting and my legs were in agony but we all stayed in a line so it was a draw, I will accept that.
Then the magic 100 mile and home.
THE END of a great day, I may make it an annual pilgrimage. Anybody want to join me?
I really enjoyed the day
My feet were sore and I had drunk so much Red Bull that I was unable to sleep that night .
I couldnít do justice to my takeaway either.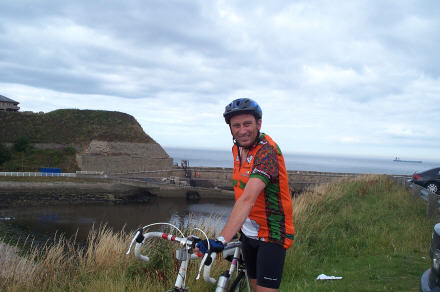 My thanks to Karen for giving up her day.
The Bishop Bullet
© This site is copyrighted, Mal and the Multiday men ©