2011 Durham Loop
The Morning
Due to lots of things happpening in 2010, as Mal pointed out at a family gathering in August,We had not had a bike ride since 2009.
As the year was moving on and nothing had been arranged we decided to do a ride along the lines we had often discussed but never done.
Ride out from one of our homes and complete a loop back to the starting point. The date decided was August Bank Holiday Sunday
It was decided to go from Colins house. A 35 Mile loop taking in Durham and our home village of Kirk Merrington. It is one of Colins routes so no maps required (really?)
Bit of a change this year as Graeme was unable to make it but we had the best possible stand in.
Introducing Graeme's son Lee

Lee turned up first. He persuded his friend with a Volvo estate to bring him through. By the time we set his bike up and had a chat mal turned up.
Dont know how Mal gets that bike into the back of the Punto.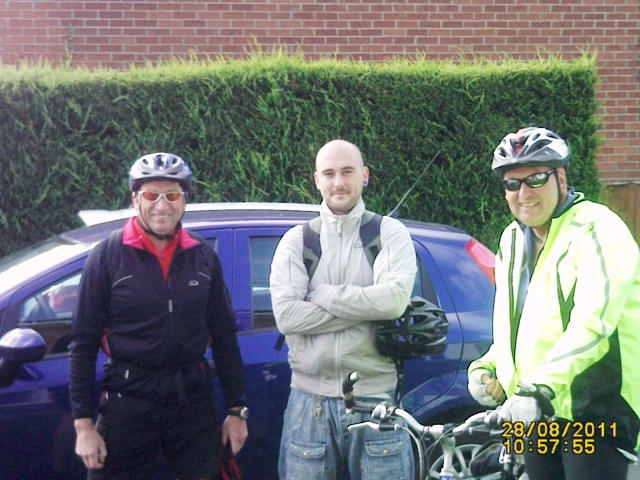 Bikes set up and ready to roll, usuall start photo
Just a short ride through the town and we were onto the railway paths, the sort of riding thats best. This one is an old railway line that goes to the outskirts of Durham City. Only climb was where an old bridge has been taken out which Lee zoomed down and up the otherside.
| | |
| --- | --- |
| The leafy mainly flat railway tracks of Co Durham | Mal needs seeks some relife before we arrive in Durham |
After Mals comfort stop it was short sharp climb up to Durham outskirts then a sharp descent under the railway viaducts and into Durham.
As it is a busy city we push the bikes into the market place where we stop for lunch. The cycle rout goues around following the river but through the centre is best for sights.
Lunch stop in market place
| | |
| --- | --- |
| The famous Lord Londonderry statue | The outdoor market |
Views from the bridges
| | |
| --- | --- |
| Leaving Durham Market Place | Durham Castle |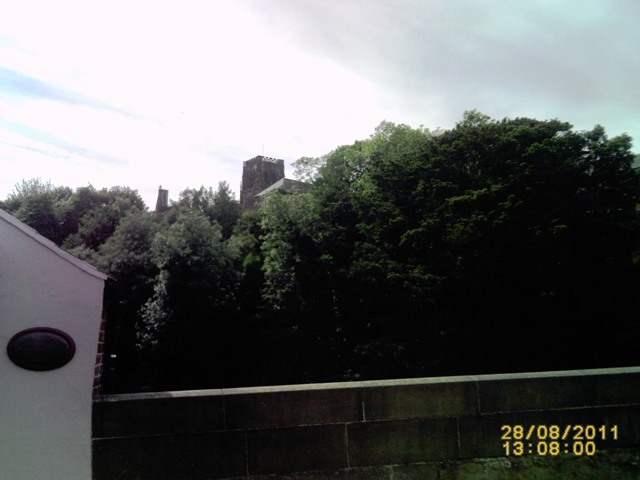 Durham Cathedral
After the scenic lunch stop it was time to leave Durham behind, Out the far side up past the prison onto the Shincliffe / Bowburn Road.