The Afternoon.
Climbing up the hill towards High Shincliffe (yes note the name high) There is a Bridle way heads off to the right just before the top of the Hill.
Follow the tarmac road to a sharp bend to the right. At this point we take a left turn and follow the path beside the field. Malcolm and Lee are of the opinion its a little known lane as the track is not well used.
This is borne out by the fact we come across a farmer and his wife trying to load a trailer with cattle, which we disturb. We apologise and quietly cycle on having set them back about 15 mins work. The track leads to a cross roads where we turn right the road stays rough but is a gradual down, which turns into a steep downhill, We pick up speed until it levels out along beside the river Wear, This leads to the old road bridge at Sunderland Bridge. We stop for a photo. Malcolm and Lee wonder how I find these tracks, I explain over years of trying different routes eventually you find a way to link them all up.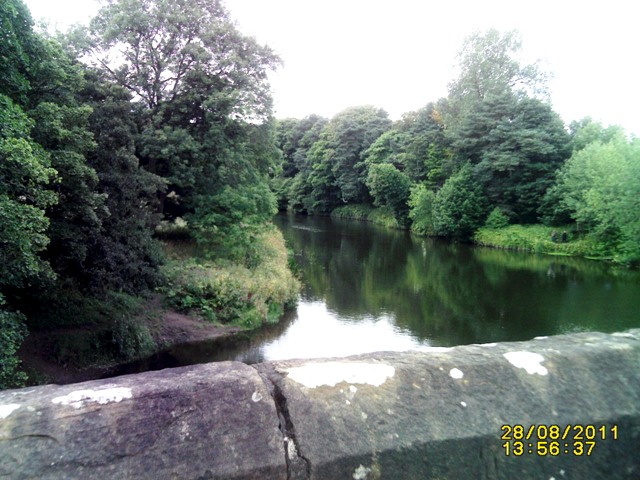 The river wear from Sunderland bridge
We cross the old road and into Tudhoe woods still beside the river. Its always a bit muddy at this point and I have often cycled it wondering if Mal came this way, would he wobble and fall down the bank side into the river. Lee is having a great time and zooms off ahead. I tell him to just follow the track he cant get lost.
Mal tackling the muddy narrow track
Note the wobbly wheel tracks

Lee comes back to ride it again, having great fun.
Mal decides to push, after I tell him how I picture him
falling down into the river bottom
We come out the other side of the woods and normally I cycle through Tudhoe Village to pick up railway line back to home. Mal wants to visit Kirk Merrington we lived as youngsters. I follow a cycle route sign but it leads down a lane and to a dead end, at the bottom of a hill.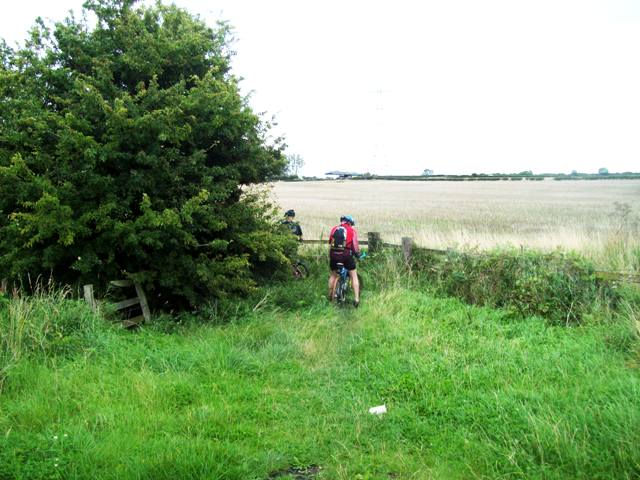 Its no good Colin it is a dead end !!
So after mal plays war with me for not fully rekeying the route we have to cycle back up the hill back onto the road route towards Kirk Merrington.
Pause at North Close. before cycling uphill to Kirk Merrington.
Highest point in Co Durham, I remind mal it was his idea.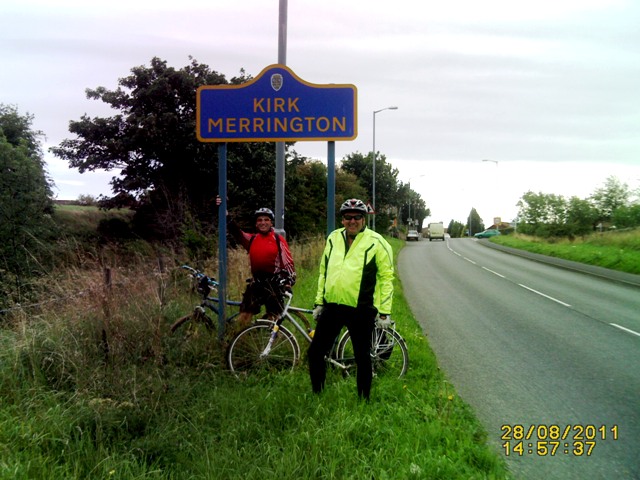 Made it Lee obliges with the photo
| | |
| --- | --- |
| Colin climbs and clowns around | Mal strikes a more traditional pose |
After Kirk Merrington the road drops down to lower Coundon roundabout Where we go straight over, Where to now says Mal. No worries after a few yards we turn off onto another narrow bridle way through overgrown bushes, another climb so Lee zooms on ahead again loving every minute of it, we trundle up to Howlish Hall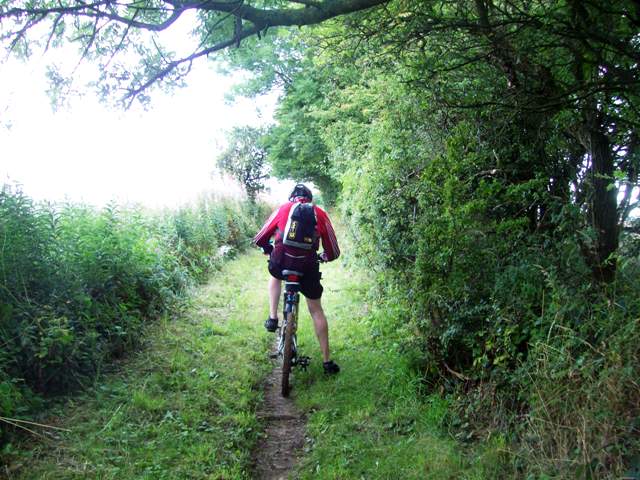 Uphill on rough track to Howlish Hall
Then turn down towards Close House to call in at Mam and Dads. We have a chat and a cup of tea. When we saddle up to go Lee says he had dropped some clothes off there earlier and was showering and changing there. So Mal and I set off to my house, where we shower and change and meet up with Mam Dad, Lee and the girls at Thinford Inn for a well earned carvery. Dad insists its his treat. He loves it when we all get to do things together.
A great ride although only 35 mile and one day, Lee now has the bug and wants to try a proper Multiday men Holiday over a few days.
Mal take note and start some planning.