Keilder Three days of loops
Day 1
Colin and Karen decided to have a long weekend at Keilder Water weather was set fair so decided to go camping and take the bikes.
Karen has now discovered how much fun cycling is after the Le Tour day so I bought her a new hybrid cycle as a birthday present.
So cycles and tent packed into the car we were up and on our way before 10.30 Friday morning.
We had intended to go to the lakes but all the good sites were full, so as Karen had often fancied Keilder water (on the doorstep, never go)
We got booked into Keilder camp site at the top of the Reservoir next to Keilder village.
What a great decision it was, we pulled onto the site down a long rough track over a wooden rickety bridge to the campsite reception,
The chap who runs it was the most pleasant friendly helpful person you could wish to meet, he really seems to enjoy his work.
After we advised we liked a quiet spot he showed us to a mains hook up site that had the electrical point broken, that was just fine as we were self-sufficient with gas and 12v this weekend.
So we pitched the tent, what Karen had not told him when she booked for 2 people was our tent is a large 6 berth tent as she put it " we like our comfort and space".
We had it erected in an hour on a lovely sunny calm day ideal conditions, just as the camp site owner was walking back along,
"I didn't know you were bringing an aircraft hangar" he said.
the lady from the campervan next door enquired if we were erecting a small village?
So tent up and all kit set out we decided to have a look round it was only 1.30 so hottest part of the day, we cycled up to Keilder village, post office and shop.
It was closed 1 till 2 so we hung around reading the notice board until the lady who owned it returned, quick look to see what they sold then an ice-cream bought to eat in the shade of the trees outside.
I had decided that today we would cycle just a short easy route, the border line MTB trail goes through the camp site from Keilder castle and is 3.7 mile according to the information leaflet. and is a green route which means easy.
The route ran through the camp site over the road and then there was a sign that was a little ambiguous not sure if it pointed down the road or up a track that said forestry vehicle's only. So I rode a little way down the road past a church to check.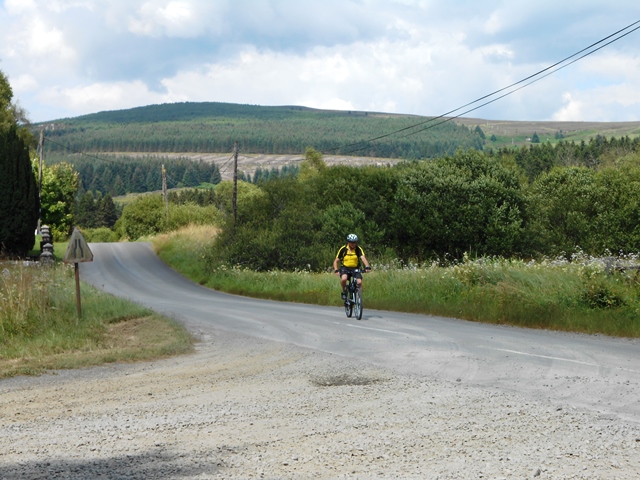 Colin returns from his reconnaissance
Decided up the track was correct, and it was. Short way up a small rise and another sign pointed us right along the old railway line. It was flat but a bit of a rough surface. The track ran along through some fields with cattle so unfortunately this means gates. We quickly got into the routine of Colin cycling up to the gate opening it for Karen then closing it and catching back up as she sailed along. At one point half a dozen cows were on the track, as we cycled up to them they ran ahead instead of moving out of the way. After half a mile of this I was concerned they may turn on us so I shouted "stop stand still" and crazy though it sounds they did. We then cycled past and on our way.
The further we got the rougher the track became. On past an old railway station now converted to a home where the owner was digging up fully formed potatoes, in July, amazing. Then another gate, should we go on or go back? The route on the other side of the gate was the least travelled yet but a little way further on was a wooden post so we decided to ride to the post and then turn back.
Guess what the post was! The England Scotland border marker.
So photos of us at both sides of the post. Then I rode a little further on but it was no track so quick photo and a cycle back the way we came.

Colin at the Scotland Border

Karen at Scotland Border
| | |
| --- | --- |
| Colin heads into the wilds of Scotland | Colin makes it back to England |
Back along the route we had just come, this time the cows were not on the track so no need to practice my herding skills.
Back through the camp site to call at the pub at the far side of the camp site Karen deserved a drink for cycling on rough track on her new bike in the heat of 27 degrees.
Then back to the tent for a BBQ and a drink, lovely end to a lovely day.
Total ride distance 9.63 Miles, Ascent 1197feet
©This site is copyrighted Mal and the Multidaymen©