2019
Hadrians Way Cycle Ride
Day 1
23 miles
Home to Start point Bowness on Solway
Cycle to Brampton.
Ian called up at my house 8 am left his car on the drive and we walked over to the garage to collect the van. Ian then went to collect Glen and Dave along with their luggage and bikes.
Peter had already dropped his bike and bags down mine on Sunday afternoon.
Back at mine we loaded bags and another two bikes into the van.
It was starting to look full already, surprising how much room bikes take up.
Bikes and bags loaded Ian set off in the van with Glen and Dave. Karen and I followed in the car.
Collected Bob and with his bike and bags van was looking full.
Then off to collect Peter then we were on our way.
I was leading and watching the mirrors to make sure we stuck together. Even though there was a few vans on the road it was easy to pick out the right one as Dave was wearing a bright orange top.
"I can still see the orange blob" I said as we accelerated over Bowes moor.
"That's a bit disrespectful," said Peter. Oops that was not how it was intended.
Called at the services food and toilet stop then on to Bowness on Solway for the start of the ride.
Usual pictures of start point, wheels in the water and collect a pebble, then saddle up and ready for the off. Felt a bit unusual for me as usually I carry all my kit in panniers, but as we had Ian driving the support vehicle we had left our overnight bags in the van and just had day bags on our backs.
| | |
| --- | --- |
| The starting point of the ride | Ian taking the picture of cyclists with wheels in water and holding a stone |
Dave and Glen had decided to collect sponsorship for a local charity so we all put T shirts on for the photos to show our support and to prove the ride was done.
I had programmed my bike sat nav for the routes it found the GPS single straight away so all ready we started our ride.
Lovely flat ride along the Solway firth coast yes it started to rain, we stopped at a statue in Burgh by Sands, It's of Edward the first who died there in 1307, we talk to some walkers who were also viewing the statue, find they are American walking the wall route east to west taking eight days to complete the walk. We wish each other luck and good wishes then continue soon we are cycling into Carlisle, past the castle following the signed route to our first stop.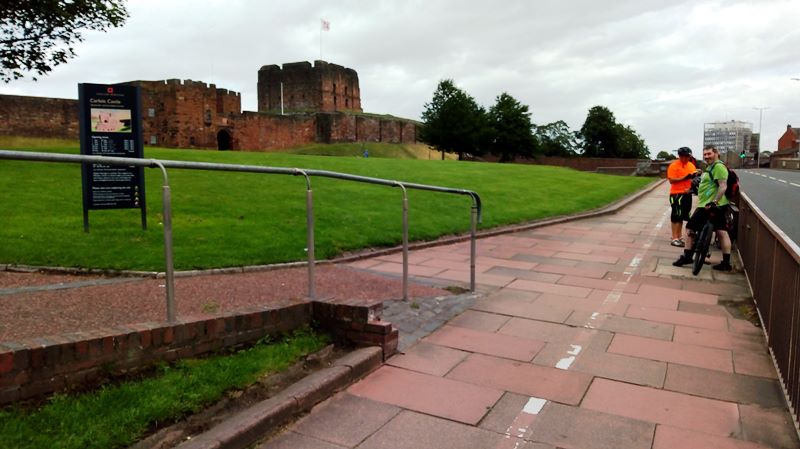 Carlisle castle on route, Lunch break just over the brow of the rise
The Turf Tavern,we chose this one because it's on the route and has a large carpark making it easy for Ian with the van. All going according to plan and right on schedule, suitably refreshed we set off for the second half of day one. The rain has stopped, things are looking brighter.
The route takes you over a bridge through a park over the M6 and out towards the airport. It proved a nice gentle climb the sun is shining and the route is traffic free.
| | |
| --- | --- |
| Bridge in the park over the river | The minor road bridge over the M6 |
When we did eventually come to the A689 the route stays on a path beside the road. We follow this for a short while before we go off sustrans route and take my route. Sustrans take you all the way back down to the valley bottom to come back up and cross the busy A69. I have decided to take back roads around the back of the airport which is shorter and flat.
Across the A689 and a short burst on the road to the junction where we turn left onto a minor road.
I lead Bob follows me, we make it into the side road where we stop and wait for the others, "I hope the others saw where we turned" I said "we should send smoke signals so they can see were we are."
Bob pulls out an e cigarette and obliges.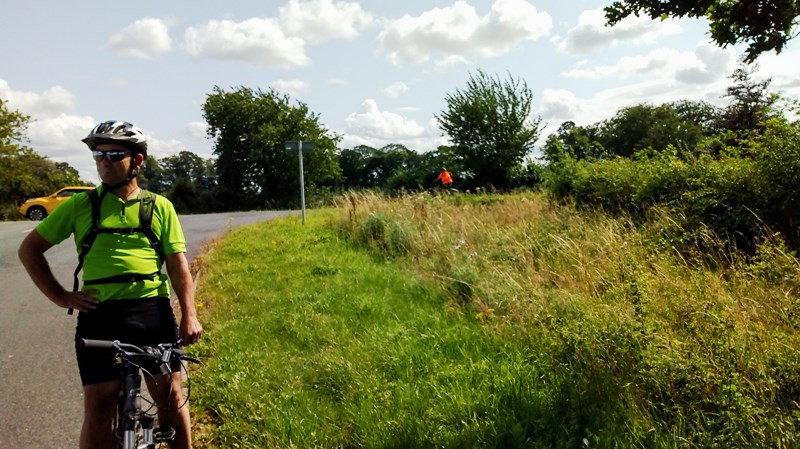 The cyclists all follow into the side road
All caught up we set off around the back of the airport, surprising how many small planes are taking off and landing from a small regional airport, then we see a helicopter sitting on the runway engine running, we decided to stop and watch.
We waited ages then he finally lifted off but not very high just hovered then did some slow manoeuvres, seemed like he was practicing or learning.
So we cycle on and round the next corner is the aircraft museum, it's closed but all the planes are stood on the runway so we could still view them.
A few pictures taken Peter loves the Vulcan Bomber and we pedal on again.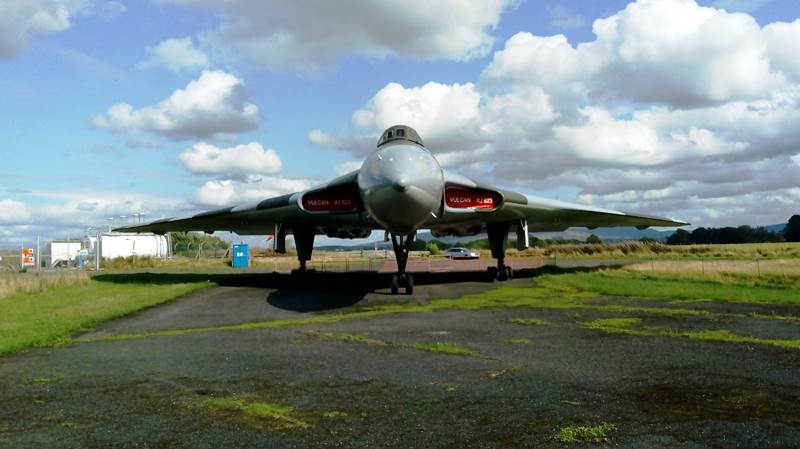 The Vulcan Bomber Peter was fascinated with it
By this time the others have set off on the way but when they realise are are not following stop and wait for us.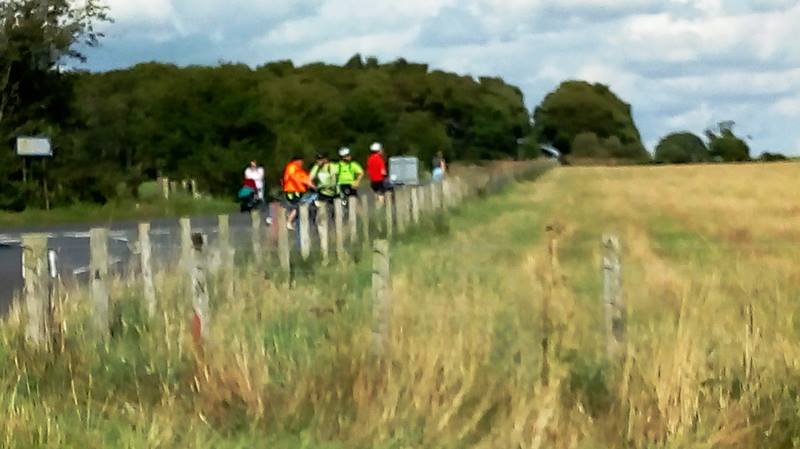 The lads waiting patiently
As we pass the fields there are mounds of earth, Bob wonders how big the moles are around here.
The road turns right but Hadrian's way Footpath is signed straight on. This was my planned route and it is a flat concrete surface great.
Soon the good surface ends and we come to a gate. It's a kissing gate so the bikes have to be lifted over, then we are in fields, still flat and following the wall but a bit slower on grassy surface. Then another gate and another. After about six gates Dave comments that it's a bad Idea having gates like this on a cycle route. I tell him I have been a bit naughty and this is actually a footpath not a bridleway. Next field is full of cow's, Bob leads as he grew up on a farm and decided to see if they were all calm. No problems, they were just curious, next field we have to carry bikes up some steps then over the gate again. This time there is an honesty box in the field, we have a look and it is full of money and chocolates and biscuits.
| | |
| --- | --- |
| Another kissing gate mastered | Glen checks out the honesty box |
Honesty works round here. Then I remember I have sweets in my bag so we all have a couple of sweets and cycle on. The last couple of gates have larger gates at the side that are easily opened so we can cycle through, well spotted Peter.
Then we are back on the minor roads.
Soon we come to the junction for Brampton and tonight's stopping point. There is also a sign for a place called Walton so Mr Walton obliges by posing for the picture that just had to be taken.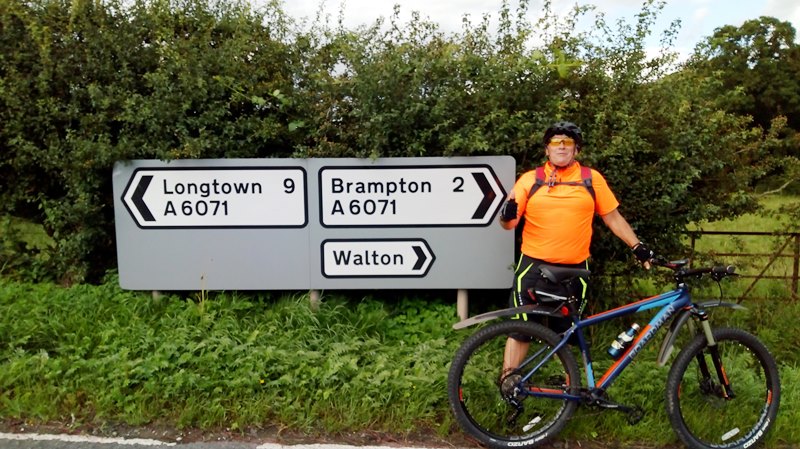 Mr Walton with his personalised sign!
We arrive at The digs where Ian has already unloaded our bags, and checked us in.
How's that for service we still have to decide who shares with who? Dave had already said he was a snorer so no one wanted to share with him.
I got the short straw. Well I am a heavy sleeper so if I get to sleep first I will be OK.
The rooms are top notch as are the rest of the digs we are all well impressed with The Scotch Arms Mews.
Showered and changed we head out for a meal.
Ian had arrived early so had checked what was in the town. It was down to one. The Howard's Arms. We had to do a double take when we walked in, there was a chap sat there who was the double of Bernard Cribbins. He must have seen us looking at him as he started talking to us.
The Howard arms is dog friendly to the point you had to step over dogs laid on the floor, it all added to the atmosphere and a great meal.
We decided to cross the road to see what another pub was like. Bad decision, the beer was OK although some had run out and we could see why. All of the clients were drunk, shouting and swaying, looked like they had been in all day, harmless but very loud.
We decided to try the third and last pub. Bit better but bit still full of loud locals, so as it had warmed up and was dry we sat outside. A couple of odd characters did the same but kept to themselves.
As we were sat a young lass walked across the road and dropped something, a lad shouted to tell her but she replied it was only rubbish, "Oh so I will pick it up then" he said. Not only did he pick it up but walked over to car she had got in and handed it back to her to loud applause and approval. Well done that man.
Back to the digs and to bed. Dave was asleep and snoring in seconds so that plan didn't work. I had a restless almost sleepless night, the only time I couldn't hear him snoring was when a wagon drove past and drowned the noise out. Oh well I will make sure I get a room on my own tomorrow night and get a good night's sleep, little did I know how wrong I was.
© This site is copyrighted, Mal and the Multiday Men ©