Tuesday 30th May
BERWICK to SEAHOUSES
(Via Holy Island)
35 miles
A cool morning with a wind but surprise, it is at our backs for the ride south. Breakfast OK, then we get the bikes ready, No problems and everything drops on and looks tidy.
Graeme and I cycle down to the Tweed Lifeboat Station where we had decided to start the ride. Jill followed us, it attracted the attention of a local Police officer seeing this car crawling behind two cyclists. As we waited at the lifeboat station he drove backwards and forwards several times, if he had only stopped and asked we could have calmed his curiosity.
Jill had to drive to Middlesbrough then down to Chesterfield so she left us to wait for Colin, (it was bloody freezing anyway.)
Eventually we saw the Bishop Bullet pedalling along over the old bridge towards us. Karen following in the car. He was going some speed. He was on a different bike this year. A Peugeot racing bike he had bought off the scrap man for £10. A complete strip down and rebuild and it was running fine.
Colin setting off from Berwick
He wanted to ride over the old bridge
thats just around the corner
He said he was using the holiday as a practice run for an attempt at the coast to coast in a day. Colins C2C challenge. He was of the opinion this year was all road route. He was wrong and we did some rough off road sections
Colin presented each of us with English flags. Moaning how he was ripped off at the pound shop as they were selling two for a pound, after he had bought them he noticed the next shop was selling them two for 75p!
Quick photo call expensive flags attached and we were ready to roll.
Loaded up and ready to roll with the wind
at our backs
A steady FLAT start. With the wind at our backs, we were on our way right on Route One. The route was one street back from the front, then up a track past a guy sleeping in his car up onto the cliff top. And onto the coastal path. A rough loose surfaced narrow path. Very soon we were along some wild coast. And just as soon we got our first puncture. About 3 miles down the Coastal path. At Cocklawburn. Graeme yes Graeme for a change. Colin sprang into action.
Thatís a First Graemeís Bike

So much for a lazy holiday
Colin at work already
Repaired and on our way the route took us between a mixture of lanes and off road sections though caravan sites but always within a couple of hundred yards of the coast. Then down to Holy Island
| | |
| --- | --- |
| Ready to Go Overseas | The causway to Holy Island |
A new venture, we were going to cycle off the mainland. I had checked the tide times and we had plenty of time to cross the causeway. It was an exhilarating feeling, the wind was at our backs so it was easy. We cycled onto Holy Island and boy oh boy it was packed, I suppose it was to be expected on Bank holiday week. The place was crawling with tourists. At moments like this it is great to be on a bike, you can go anywhere and no car park worries. We walked and cycled down to the Castle.

Then back into the village and round the Monastery After buying a Holy Island trinket. One of our famous pin badges, we finished off having a break sitting in the village square
After a couple of hours exploring we were back on our bikes, now into the wind it was hard going really tough. Cycling over the exposed causeway, but a great feeling.
| | |
| --- | --- |
| Pose for pic Mal an Col | Pose for pic Graeme and Col |
| Castle as it should be viewed | What we were seeing in above pic |
| | |
| --- | --- |
| Village Green | Village Church |
| Lindisfarne Priory | Priory Walls |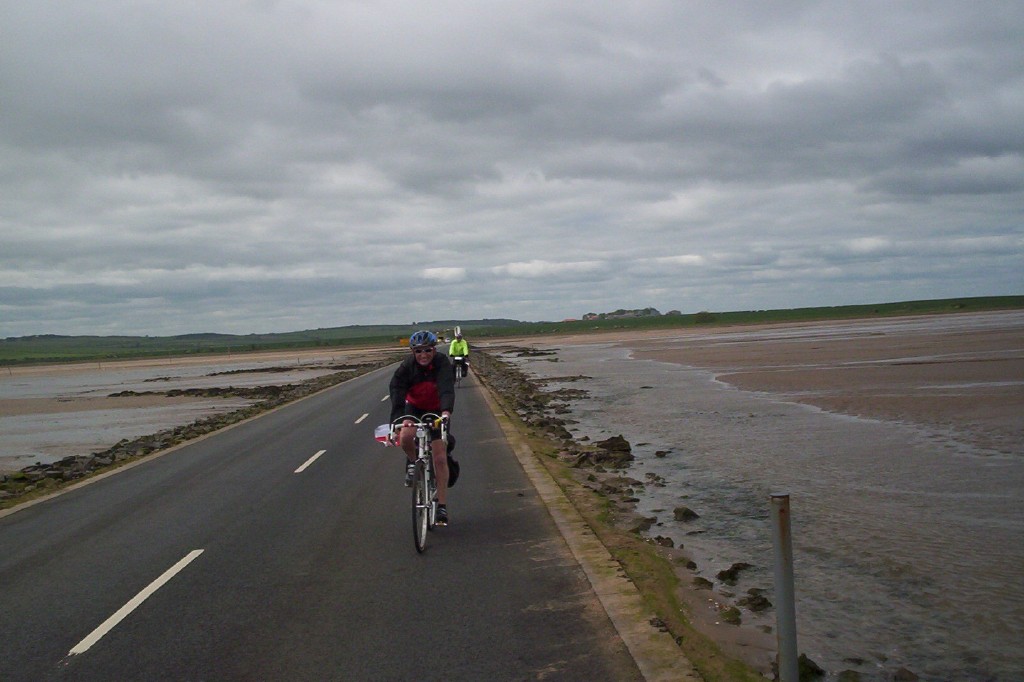 Back over the causeway into a stiff breeze

The route took us inland and into a different day, sunny and warm and no wind.. We crossed the A1 and the main East coast railway line and climbed up and away from the coast. As we did so a group of cyclists came clattering downhill, I had seen a mini bus from Dorset driving the back lanes it was obvious these guys backup team. Back UP!!! Whatís that? We followed the lanes, with great views out to the sea to Belford then down hill to Budle Bay a very pretty place with the road right alongside the water, apart from a headwind the sun was shining and it was great. We were well into the ride now and only a round the corner Bamburgh village and its impressive castle.

Graeme approaches Bamburgh Castle
Luckily he is flying the English Flag

Easy to take a picture
Would be hard to take the castle
We followed the coast to Seahouses and our first nights stay.
The Rocklyn Guest House although at the edge of the village was right on the sea front. We had a large garage for the bikes and a pleasant room if a little small but with some re arranging ofbeds and furniture it was fine. The en suite I may add was huge.
We could all lie in beds and look out over the Farne Islands. Stunning!
A stroll into Seahouses and Fish and Chips, what else!, we were starving.
Then we had to find a pub to watch the England Game.
After a big plate of Fish and Chips and a couple of pints you feel great. It was funny in the pub, They obviously have reception problems, both mobile phone and TV. The Landlord was hanging out of the window for the TV aerial and every time a mobile rang people were standing up or leaning out of windows.
A steady stroll in the cool wind back to the digs for a good nights kip.
© This site is copyrighted, Mal and the Multiday men ©