Captin Cook Tour
Day 1
Middlesbrough to Whitby
The original plan had been to cycle from Inverness to Edinburgh,
however the logistics trying to fit in with availability of people and work commitments made it not possible for this year.
Colin as the planner came up with this alternative and it was great fun.

We all met Stewarts Park Middlesbrough.
Colin and Karen turned up first soon followed by Christopher and Suzanne, Then Stephen and Amanda who had been via Darlington for Lee
While we were getting all set up took the chance of a few photos as Stewarts Park has the Captain Cook Birthplace Museum as well as lots of connections.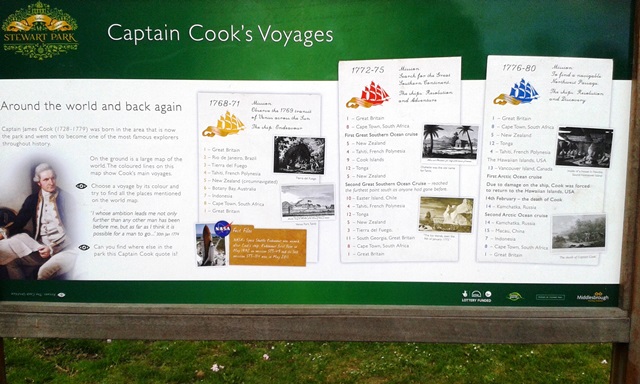 Cooks Ship play area

Map of Cooks Journeys.
We got set off 10 am which was pretty good going and a nice early start
We left the children playing in the play area watched over by the girls after the usual start of ride photos.
Colin Checking the route while waiting for the others

All ready for the off


Anchor reputedly from Endeavor





Totem poles outside the museum


The route goes through the park and beside the A172 for couple of miles. Although it is a cycle path sharing a footpath we spread across the full path.
An old man takes exception to this and before we could get into an orderly single file shouts "get over", shaking his fist and waving his arm. I guess he is not a fellow cyclist
Soon we turn off the A172 onto side roads past Middlesbrough Golf Club.
We find a golf ball beside the road, Christopher comments on the wayward drive.
Round a bend and a small climb, I know that coming up the route has a few more even steeper hills than this one, so a nice warm up.
We can hear a car revving and messing about, a quick look round and as usual its an old couple making hard work of getting past.
How hard is it to overtake a pushbike?
The road curves back round and we cross back over A172 toward Great Ayton.
We find another golf ball in the gutter, Christopher said "that was an even worse drive".

Arrived in Great Ayton. Toilet and snack right beside the school room where Captain Cook went to school.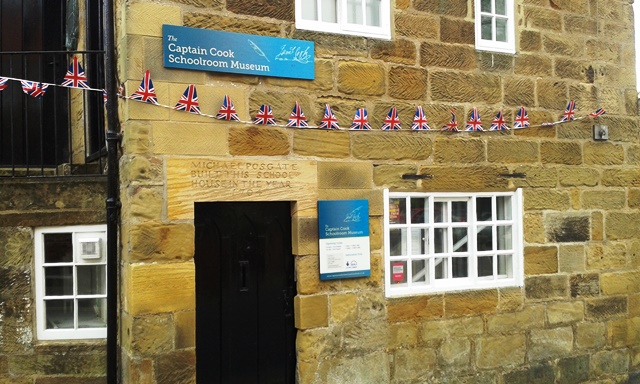 Around the corner is a pizza place offering delivery We Wondered if they would pizza would deliver later on in the day while we were on the road.
Its a nice spot but a busy with a lot of cyclists and cars.
We take the route out of the village and head steadily upwards through winding countryside and villages,
A photo opportunity arrives where we can see Captain Cooks memorial stone stood high on a hill in the distance.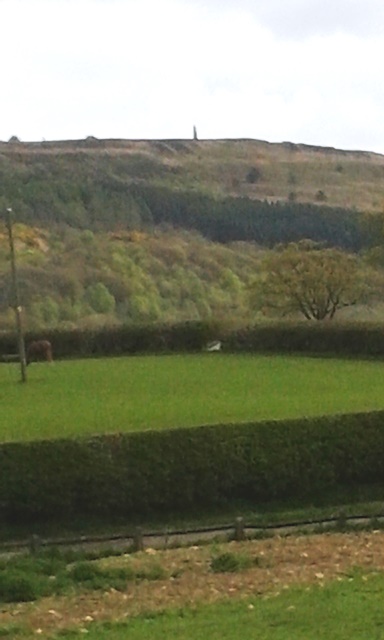 Shortly after this we have a choice road or bridle path.
We took the bridle path to Castleton as we all prefer off road riding. This drops us onto a main road which goes down then a sharp climb into Castleton.
The main street is decorated with flags and bunting for the previous days bike race.
We stop for tea and food in cafe. It was excellent all except the music for some.
Glenn Miller I found quite nostalgic but Lee moaned. is it VE day? well its close to the 8 May so near enough for Glen Miller music
There were some other cyclists in so we didn't feel too out of place. Only problem was slow service. Nice stop spoilt a little because our leg muscles cooled down and the toilets were upstairs, ouch.
Owner said it had been busy yesterday and warned us of an upcoming hill where a few cyclists had come off.
We were heading that way just about doing the cycle race route in reverse. The climbs keep coming mainly sharp up followed by long downs. Couple of them are that steep they became pushes.
My Cleats sound like I am tap dancing when I walk. There are less cars and cyclists now.
We stopped for Stephen to put on his jacket and put some air in his tyre. as it had been quiet we stop at the road side, then typical two cars meet at the point we are stood. first we had seen in ages.
We decide to move into a gateway for safety.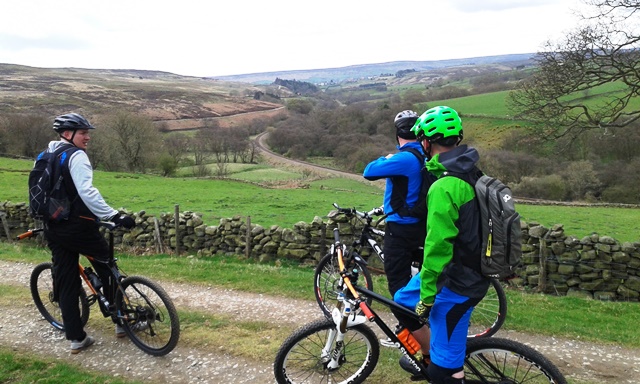 Yes that is where we have come from, railway line in the bottom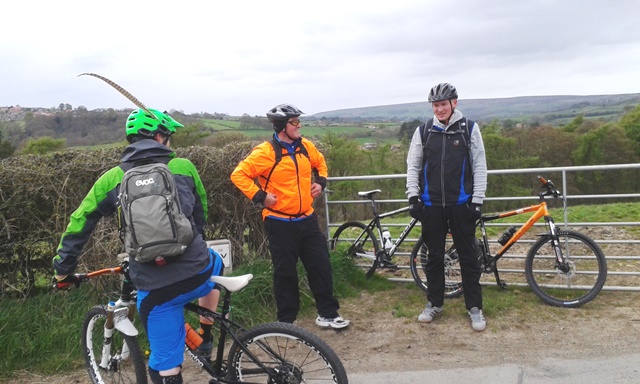 Stephens dayglow jacket Lee decorates his helmet with a feather.

The route is undulating to Aislaby. At the right turn we stop at the gate and send text so the girls know how we are doing. The route goes down a rough track that splits, we went right as sat nav showed that way further on we found the tracks merged again, and yes we had taken the longer option,
but as it was downhill it didn't matter.
Then a further good long down hill stretch then another gate and onto tarmac road.
With the downhill and the good surface Lee nearly crashed on a sharp bend as he had gathered that much speed..
Then the route levels out along beside the river to Ruswarp. Lee decides to decorate a statue of Brother William with his helmet.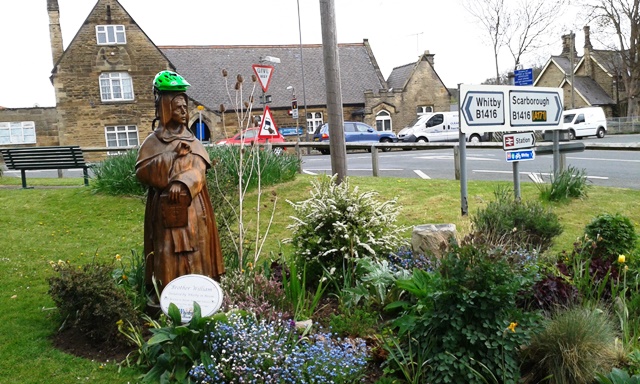 The route goes over the river then it climbs, Lee is ahead and sees sign for Whitby along a railway track.
Unfortunately my route is different for today. That route is for day three on Monday.
We drop into Whitby beside the river and harbour.
| | |
| --- | --- |
| Harbour | Captain Cook Memorial Museum |

Then over the bridge to finish. Bang on the mileage we text the girls who are 10 min away we have made good time.
We are all cold.
I go into the Tourist info for warmth
Then my phone rang. The girls have arrived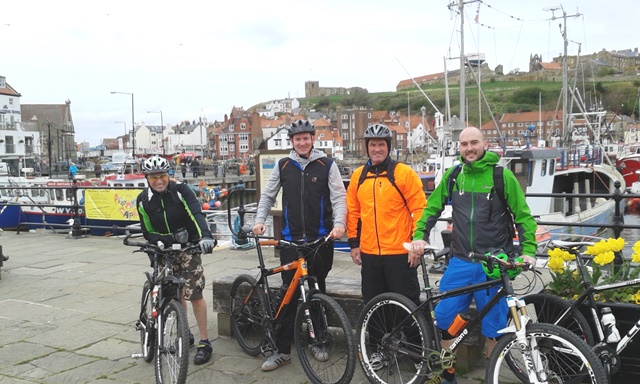 Quick picture, load the bikes on the cars and go to the caravan that is to be the digs for the next three days.
As there is a Fish and chip shop on the site we decide to stay in and have fish and chips from the chippy.
We had a plan for who slept where as we had two caravans booked adjacent to each other but it all changed
We didn't get to bed until twelve as we were sat drinking and talking. Charlotte went to bed in the wrong caravan, Lee ended up in a double room with all the bags Karen and I kipped down in the front lounge and Amanda and Stephen had the double bed with the en-suite
Suzanne and Christopher with Luke were next door and had a 6 berth caravan all to themselves so we put the bikes in with them.