Day 2
Seahouses to Ashington
40 miles

After a good breakfast and usual photo shoot outside the hotel. (for some reason I dont have this photo)
Peter complains his shoes are still wet so it looks like he is cycling with wet feet today.
It was a lovely start with a gentle downhill.

The route went along beside the golf course hugging the coast, then round and up past Beadnel, where at the junction we go left. Leaving the official route to follow my route as its as near the coast as I could manage.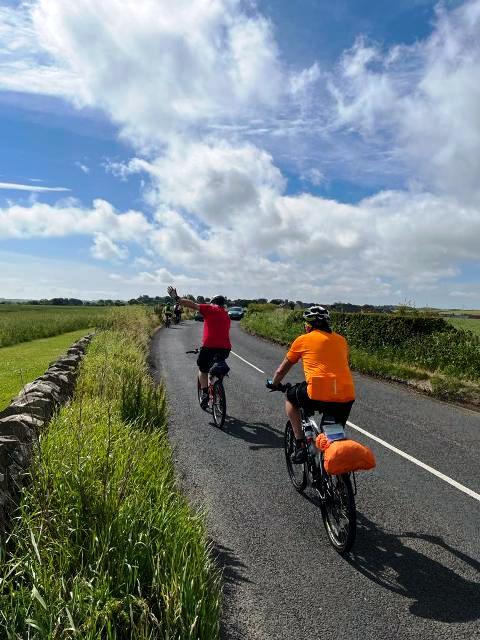 Thats correct Peter left turn
After a few miles we rejoin the official route which is signed, and heads down to Craster. Rest stop, Bob and I do a map check.
| | |
| --- | --- |
| The route to Craster | Peter not commenting on the map reading |
As we enter Craster The route goes right and is shown as traffic free, from Craster it was part tarmac and part hard packed track. We cycle past some homes but there are also some gates and rough track all great fun as we take turns opening the gates and all admire the lovely hidden away properties. As we leave them behind the track gets rougher and more remote but we are all enjoying the ride
The track becomes rougher and steep in places but is right beside the beaches so has wonderful views. As we drop down into LowStead Links There is even a bridge to allow us to cross over a small stream. There are a couple of people sitting on the beach, the only other folks we have seen in miles, Its a great photo opportunity and Peter gets them to take our pictures.
| | |
| --- | --- |
| Lowstead Links | Approach to the bridge |
| Information sign | The couple about to have their peace disturbed |
| Peter Loves a bridge | Great photo note the extra bridge support |
We eventually leave the tracks and rejoin the road which goes through the village of Boulmer and past the airfield.
As we leave of Boulmer we see a Road Closed sign, however some cyclists coming towards us assure us bikes can get through all the way into Alnmouth. As we come into the town we stop and Colin N rings Ian to find out where he was. We then follow Colin N into the town and out in a big loop round the golf course looking for the van. No sign of it.Colin N had taken us to the wrong car park. Looks like someone else is off map reading.

We decide to have a Pub stop in Alnmouth.and all order coffee except Peter who orders a pint. As Peter had paid we all chip in some coins for our drinks, making sure we give him as much copper as possible to weigh him down, it's great to have a laugh pulling each others legs with no offense taken..
Glen manages to drop some money down the slots in the decking. Good job it was only coppers and not £1coins.

Realising the time and date, England were playing in the euros, we decide to up the pace a little to ensure we arrive at the next overnight stay in time to watch the match.
However it is such a nice ride on traffic free paths from Alnmouth to Walkworth that we cant resist some photo opportunities.

The road from Alnmouth


Lovely spot Alnmouth


Just had a drink but time for a snack

We made good time to Walworth. Great photo stop on the old bridge and entrance to the town.
| | |
| --- | --- |
| Warkworth new bridge | We take the old bridge route |
| Lovely old bridge, Bob admires the view | Me and Peter shockingly bad pose on the old bridge |

Then down to Amble, a lovely downhill with the river beside us the North East Coast spread out before us and the Castle behind us. Photo stop.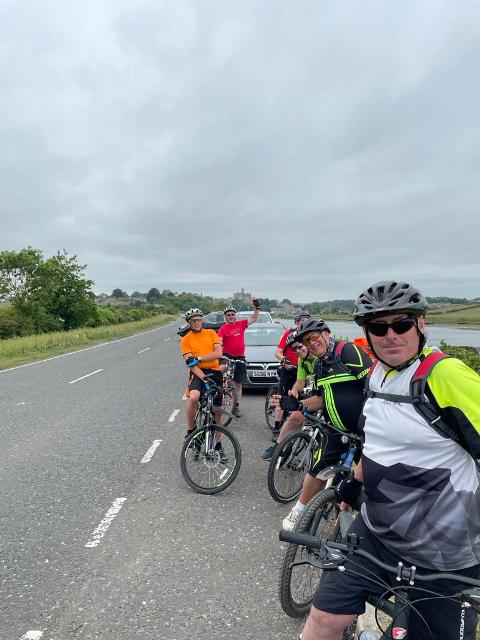 Warkworth Castle behind us river to the side
As we were doing good time we decided on another coffee stop, as Ian was there we could have another catch up with our support team. (One man and a van but team sounds better)
We ordered from a catering van then sat in the square to drink it.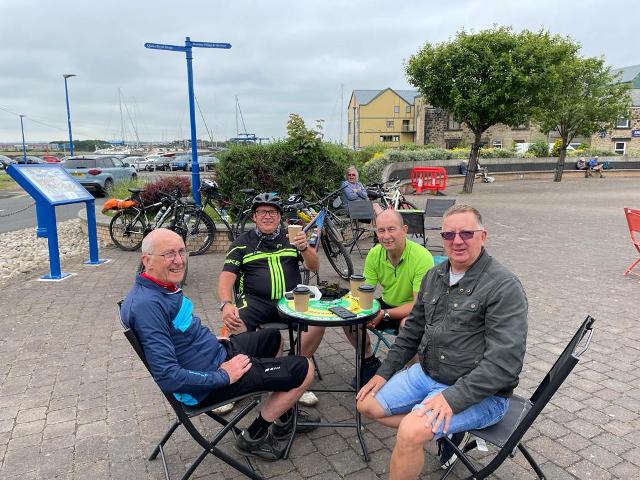 Amble and Another tea stop, cheaper and better than the pub stop in Alnmouth
There are public toilets available and they were open so that was another good reason to stop. Then back on our bikes out the bottom of Amble and on through Druridge bay which is flat and as an added bonus we had the wind at our backs, although the day had cooled down a little it was still excellent cycling on the traffic free routes. This year there were seven of us cycling and I was finding it
difficult to keep track of so many cyclist's.
A quick glance was not enough, so I had to make sure we were all still together, with some stopping to take photographs of the magnificent scenery.
It was a great part of the route on lots of well signed off road traffic free areas.
| | |
| --- | --- |
| Druridge bay | Deserted beaches |
| Not a soul in sight | No one in sight until Peter tries a photo bomb |

Only spoilt a little by the last bit on and beside a busy main rd.
I did see a sign for an alternative route but it was not shown on our map so we decided to ignore it, shame as it would have cut out most of the busy main road section as we found out when we arrived at the entrance to the park and saw where the alternative route had come out. We had made good time to Woodhorn country park and the Premier Inn that was to be tonight's stay. Checked in and found it was a nice spot on the outskirts of Ashington, close to a mining museum and overlooking a lake. All checked in and the bikes placed in a locked room we check out the bar to find it had only one small TV in the corner. We decided to go to our rooms to watched the England game, all except Peter who is not a football fan so he had a walk by the lake and a drink while waiting for us. Great result with an England win.
Then down to the bar for drinks and a nice meal
A Great night at the end of a great day.

© This site is copyrighted, Mal and the Multiday Men ©