Saturday 3rd May 2003
Glasgow to Balloch. 21miles

I'd driven over to Graeme's in Kendal the afternoon before and the weather was torrential rain , however I arrived in sunshine, It always shines in the Lake District especially when I visit Colin had collected the hire car and driven over early Saturday morning, he was at Graeme's for 7 30am . He arrived in a Mondeo estate which was ideal and we managed to load all 3 bikes and baggage in the vehicle No rack needed.
We left Kendal around 845am and a pretty incident free and uneventful drive to Glasgow, into the city centre and apart from missing the turning we needed due to roadwork's we about turned and in a couple of minutes we dropped down right beside the Hire Depot and literally yards from Bells Bridge (THE S.E.C.) our start point.
It couldn't have worked out better and we arrived at Bells Bridge around 12 10pm. The gear placed out and the bikes all put back together.(See Photos)
| | |
| --- | --- |
| Bikes unloaded | All assembled ready to roll |
Grame produced 3 Scottish Flags Yellow with the red lion he'd bought some time ago, We put them pride of place on our bikes, Mine hasn't a feral ? I shouted …….They pulled it out and it was on the other end of the Flag!!!!!!!!! DUH!!!!!!!!!!!

We got away around 1pm and after photos in front of the S E C we cycled off along Route 7 traffic free start, We even cycled past a millennium milepost which said Inverness 215 miles. Up and over the main road we slowly pecked our way through the old buildings and tenements on the cycle route alongside the Clyde.
As we cycled every 200 yards or so we saw men sitting on deckchairs drinking beer from cans holding pieces of rope across the cycle path after a few had been passed we also noted high wooden towers which appeared to be Pigeon Crees or to the Non North Easterners reading this ..Lofts,
It appeared that they were waiting for the pigeons too come back. Each to their own.
As we cycled along Graeme said he was starving we got to he next corner and right on Q in a town called Yuker their was a Hot dog Hamburger stall outside a football ground, so we stopped for refreshment. Also had a mooch at Yuker Athletic Football ground which appeared to have seen better days.
We cycled on through Partick Clydebank we cycled past the Worlds only sail through Fish and Chip Shop…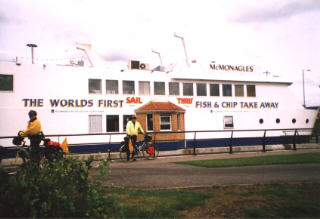 As we cycled into Clydebank the pipes were swirling as a Pipe Band played.
After Clydebank the route got slowly more rural, we stopped at Bowling and got our first stamp, nice fella at Magic Cycles who was sat taking the air outside his shop which was right on the cycle route.
We stopped a few minutes at Bowling and enjoyed views down the Clyde. Chatted to two elderly ladies who were interested in how far we were cycling.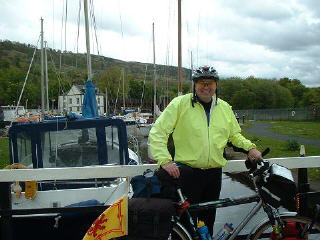 The route was traffic free and flat the afternoon was pleasant and the wind was at our backs...That's a first.
As we approached a small town called Melton we stopped at the Tourist Information office, bought extra St Andrew Flags, and we chatted to the two ladies inside. As we first went in the Lady directed us straight to the toilets, we laughed and yes we needed them. She said all cyclists do that straight away on visiting their shop.
Traffic free into Dumbarton town slight detour to see the Town and the river and the longest Q of taxis I've ever seen.
At Dumbarton we plugged into the cycleway alongside the River Leven it was a great ride along the riverbank to Balloch passing all the fishermen and looking for the seal that had recently been in the headlines after it was eating fish stocks in that area.
And TO Balloch Graeme had been told it was the Millom of Scotland well it was a very nice town on the shores of Loch Lomond we found the digs, very nice apart from the mini international incident because the lady couldn't open my toilet and bathroom door, at one stage 3 people were trying till eventually the right key was produced. We also lodged our bikes in the greenhouse different.
Showered changed and Out for a pleasant meal and a couple of beers in Balloch I can highly recommend the Balloch Lodge for a great beer and a great meal in pleasant surroundings.

© This site is copyrighted, Mal and the Multiday men ©