SUNDAY 4TH May
Balloch to Callander (35 miles)


Combat Insect repellent as recommended by the Bishop Bullet went into Colin and Graeme's room at 830am just before breakfast to find Colin lathering himself with this stuff. It keeps midges away well he was right never saw one all holiday, mind the temperature and the wind rain had nothing to do with it. It was combat Insect repellent it also kept Tigers, Elephants and Grizzly bears away too cos we saw none of those either.
It rains every Sunday in Scotland, last time we cycled on a Sunday in Scotland it rained all day and today was to be no exception.

We had a good breakfast loaded up, the start of the day was dry and pleasant as we stocked up on drinks and then headed out through Balloch Country park with views over Loch Lomond,

It was pleasant undulating farm land and we were impressed with the signing of the route and this was to continue to Inverness. Excellent signing throughout.
We also had one or two early hills on one of the hills we were passed by a racing cyclist from some Glasgow club, that was the signal for the Bishop Bullet a k a Colin to give chase he was pacing this guy all the way up the hill so much so the bloke was looking back in dismay, the Bullet strikes again.
We cycled through farmland over a river with bridge which was see through, that didn't help me but Colin had to cycle it twice?
| | |
| --- | --- |
| Colin enjoys the see through bridge | |


We had a climb up to Drymen which touched on part of the West Highland way which Graeme had walked several people were having a Sunday morning jaunt.
As we arrived in Drymen a pleasant village the clouds were gathering, we sheltered in the bus shelter and had Graeme's famous hot chocolate from his flask, he'd brought Hot Chocolate and we had it everyday. Good move.
We were not the first to shelter looking at the teabags on the ground.
Drymen although a pretty village looked pretty soulful that morning. We left to cycle our first lance Corporal Steep hill to the um initiated. Sustrans maps have various symbols of steepness one stripe L\Cpl to a full Sergeant.
We started to climb a narrow road it was a bad enough doing this but all of a sudden traffic was busy downhill and we had to stop plus it started raining.
We had one climb up to the mast above Drymen to Muir Park reservoir.
It was raining now steady the descent was long and very bumpy and shale everywhere Colin produced his Poundstretcher Yellow cape!!
| | |
| --- | --- |
| | Colins in such a hurry he puts the cape on back to front ! |
Graeme and I just get wet while he sorts himself out. As we descended two cyclists were climbing they looked absolutely done for!!
We dropped down Cobleland campsite which was to be our next stamp stop plus we thought Tea etc etc…No the place was shut down the rain poured and Cobleland campsite looked one miserable place,
| | |
| --- | --- |
| It looks as wet as it was | |
We pushed on to Aberfoyle down a cycle track, where people were walking presumably to the camp site with bags of shopping altogether soaked..
Aberfoyle and the Aladdin's cave tea rooms Warm and dry while the rain lashed against the windows we dried out. That place was full of dry clothes for sale.
As we sat and enjoyed tea and toasties the rain lashed down. We eventually braved the storm and went across to shelter in the Toilets outside the Tourist information office, till Colin sorts himself out with his Storm proof rainwear!! £1 from Poundstretcher. Nothing much of Interest in the T I C so we hit the road again.
Then it started a climb out of Aberfoyle a Sustrans sign saying Callander 10 miles but what a 10 miles, we climbed out of the town then right onto and into the Achray Forest and we climbed in torrential rain, over the Highland fault. We stopped for a photograph by some majestic waterfalls, Graeme positive as ever says well if it wasn't raining so much the Waterfall wouldn't, look as good.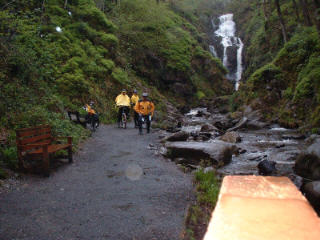 It was off road and with the rain it made the track even softer and harder. The climb was tough. We eventually crested the summit thinking we'd have a great descent wrong. The track was worse as it plugged into a forest drive so it was even more shale and mud pedalling down hill in the rain tough going. We dropped down to a place called Loch Drunkie a remote loch in the forests but we did find a wooden toilet block where although closed who would be out there on a wet bank holiday weekend Sunday but we sheltered under the veranda and enjoyed chocolate biscuits and Graeme's hot chocolate, we were and are becoming experts on Toilet blocks and bus shelters, eventually we hit the track at Lock Venachar which took us towards Callander it was slightly better and it was right beside the Loch side very beautiful, as we hit the tarmac road into Callander we met some cyclists who were doing our trip but the other way, they were just setting off then 5pm to climb over the Achray forest in the rain and rough tracks, good luck I'm pleased its not me I thought, we cycled along the tarmac towards Callander, stopped at the Trossachs Backpackers Cycle hire Hostel for our next stamp, a nice couple ran it who were interested in what we were doing and offered us Tea but we only had a mile to cycle.
Into Callander and up the High Street to Abbots lodge which was to be a great stop.
We dried our gear and only had to walk downstairs to a Blazing fire very comfortable lounge and a couple of beers followed by a wonderful roast beef dinner.
A walk round the town and then back to the hotel for another drink before we all were sitting dozing and to bed a wet but rewarding day. Moral of the story don't cycle in Scotland on Sundays.

© This site is copyrighted, Mal and the Multiday men ©