FRIDAY 6th May (Still on Bike 3)

Alston to Bellingham 42 miles

(And we thought Yesterday was hard?)

Great breakfast and plenty of it, good Landlord chatted to him about cricket before we left. He used to play in local Northumberland leagues but now doesnít have the time.

He is in a great location, had lots of plans and is switched on to the Pennine Way and Cycle routes.

He even told Graeme he can bring his dogs if he vistis again .

It wasnít a bad morning if a little cool we had look around Alston and bought postcards. Then set off for Bellingham. I hate this part of the day your legs need to get going especially when itís cool so the first couple of hills are killers. We dropped down to the river bank and cycled a couple of miles along the side of the River wild remote countryside. Then we hit Low Row bank. On the map it was a lance Cpl? More like a full blown Sergeant even Graeme had to get off to push.

It was then down to Slaggyford and a lovely off road section along the old railway line.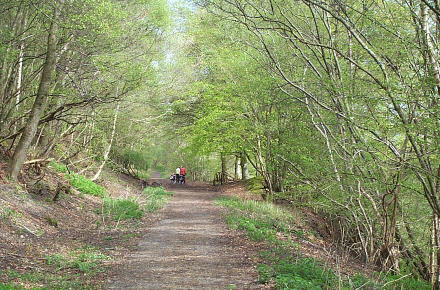 This ride has a sting every day, today it has several.
Lambley viaduct and Station House Lambley.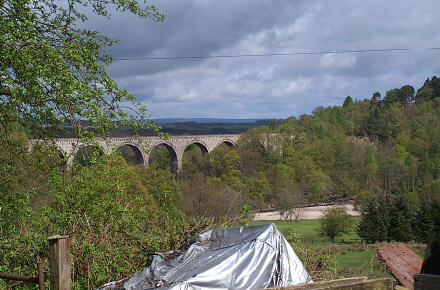 No direct entry from the old railway line. Whatís all that about for the sake of a few yards you have to complete an Obstacle course I will try to recount in words exactly what you have to do.
The owner obviously hasnít agreed to the use of the line past his land and has barred it with chained and padlocked gates.
So the Authorities have had to build a pathway and steps down to the river bank under the viaduct and then up the other side to rejoin the path on the top of the viaduct.
Now for Multidaymen with bikes and full panniers this becomes a major hurdle. We had to take off the panniers, carry the bikes down and up.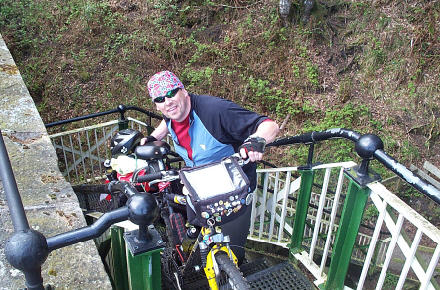 Then return for the panniers we did this as a team and relayed all the gear and it worked well, but it put a good 40 minutes on the day. Unreal.
The Multidaymen conquer all obstacles that's in their way.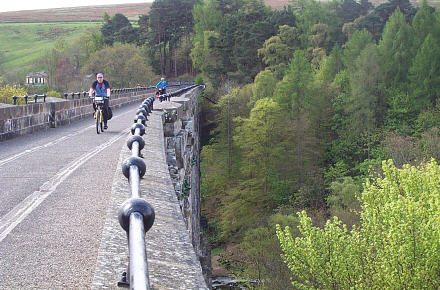 It was then back on the railway line and a lovely run into Haltwhistle the Centre of Britain.
We stopped for lunch pies and drinks in a great cafť with very friendly staff who were interested in what we were up to.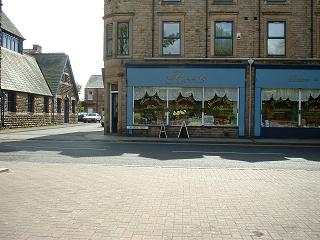 Reflections in The Pie shop Haltwhistle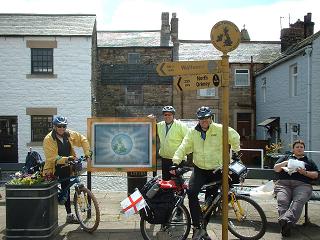 Another Landmark Centre of Britain
Haltwhistle
After Haltwhistle we followed the Tyne valley down to Bardon Mill, why because itís on the route?
Then we hit more hills that made Hartside seem easy. We climbed out of the Tyne valley up to the Roman wall at Once Brewed. All the time into a stiff cold north easterly wind.
We climbed and climbed it was hard going even Graeme was struggling.
We got to the Once Brewed visitor centre where we thought weíd stock up with provisions all you got was a Coffee machine and nibbles, and several Roman Wall tourists. We sat outside and had coffee and nibbles and thought of the climb ahead.
We cycled on climbing all the time right onto the ridge where the Roman wall crosses the road. Photo stop and Colin put his bike on the wall and rode a few yards, (it says don't walk on the wall, which we didnt) apologies to anyone from English Heritage reading this, but we promise itís still standing and undamaged.
We dropped into some wild country, and I mean wild unhabited country, 15 miles of it into the wind towards Wark forest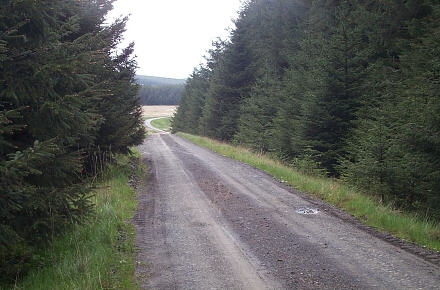 Real Reiver country. It was hard work into the wind I donít think we saw another person in the whole time till we came across a blonde in a Range Rover who needed to be past while we were trying to repair a bike.
We passed a farm called Scottcoulthard must be one of the most remote places in England.
As we cycled through the forest we stopped at a ruin and had our famous pies and hot chocolate good old Graeme.
It was a rough track and the bike was finding it hard. The pounding from the uneven surface made my seat slowly slide down into the tubular bike frame. Then as we hit the road on the other side of the forest we had 3 breakdowns in Ĺ mile, punctures, chains coming off, plus running repairs.
We dropped out of Wark and had to climb over Shitlip Common to get to Bellingham, another big climb and guess what, it started pouring down again. We were getting 4 seasons a day every day this holiday.
Eventually to Bellingham and Lyndale Guest House owner Mr Garnham mmm. First we had to read all his clues to get hold of him. phone this number etc.Then when he did turn up it was "put your bikes there, no put them there instead" all you need after 40 odd hard miles, ok he made us a cuppa but my bedroom was designed for people no taller than 5ft 4in.
In view of what I was charged I was disappointed. Ah well fun of travelling, and the poetic licence used to describe the premises.
We showered and changed and went into Bellingham for a wild night out. Well a few beers and a good meal in the Cheviot Hotel then back to bed we were shattered.
Didnít sleep well at all. Too cramped too hot.
© This site is copyrighted, Mal and the Multiday men ©