SATURDAY May 7th
(Still on Bike 3)

46 miles

Bellingham to Wooler
(Its flatter today, and the weather picks up. Who's he kidding?)

First and foremost I was not impressed with these digs. Paid £28 a night each for a shared bathroom with a poor breakfast. All guests sat round a communal table. All the food was from the cheapest supermarkets. Disappointing. Our bikes were dumped out of the shed before breakfast and our Colin's gearing had been knocked astray; had to stop within 100 yards to adjust the rear wheel and gears. Guess what, we will not be returning.

Ah well the people round the table were pleasant and were taking the weekends to walk parts of the Pennine way.

Colin fixed his bike in village outside the Cheviot then lost his favourite baseball cap with all his prize badges on, he didn't realise till we had cycled nearly to Elsdon. If any one reads this and finds a green baseball cap with badges from all over the UK pinned to it please let us know as it is irreplaceable.

As we left Bellingham we were straight into a climb. It always gets the heart pumping. Then we had a long 5 mile run down to West Woodburn down Redesdale wow! will it be like this all day, NO!!!!

We climbed over undulating countryside to the village of Elsdon, and a welcome tea stop.

Elsdon is a very pretty village with a Fortified Tower in the centre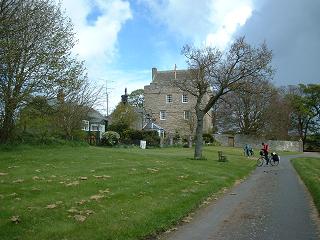 Elsdon Tower
We found the Impromptu Café, a cyclist's haven and real cyclists' café. The lady at first was a bit cool with us till she realised we were proper cyclists. Another couple of day riders were in and she was recounting some of the crazy ill prepared people she had come across in her years at the café.
While we were in the café it hail stoned yet again, one of the cyclists quipped "I hope it doesn't chip my frame."
It was one expensive bike laid against the wall.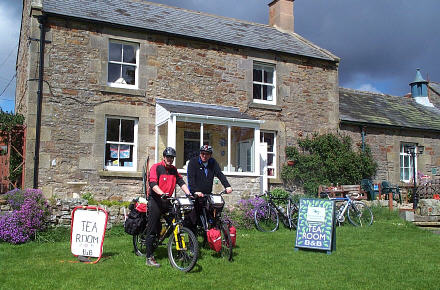 We had tea and scones and rested before the climb up Elsdon Bank onto Billsmoor.
These things have to be done.
We also noted the signs and information for the village walk and places of interest in Elsdon, it included Elsdon FC Football pitch, we found that amusing.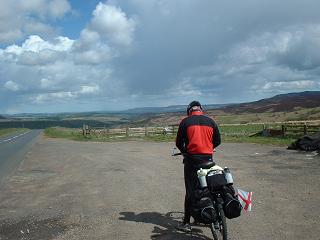 Map Check top of Elsdon Bank
On towards Wooler which was a fair ride and very undulating with steep climbs as we found out for ourselves. While we had been in the Impromptu café the owner told us a tale of some cyclists who were a bit disorganised and one had been going to cycle to Wooler and back for a spare wheel. After climbing Elsdon bank and cycling some of the terrain I think he would have been a foolhardy soul. I doubt if he ever made it.
We cycled over undulating countryside with the sun breaking through followed by a shower.
We stopped for lunch at Harbottle Castle Graeme's special brew once more, it was a good ride apart from the wind in faces all the time. As the afternoon wore on the weather started closing in too. We got our second shower of hailstones.
We then had an interesting off road section just past Alwinton where we literally had to ride through a caravan site and then climb up through some trees over some real rough tracks. I know it was the route but when you have full pack and panniers it made it hard going. Northumberland is a wild remote county and we rode through some wild remote places.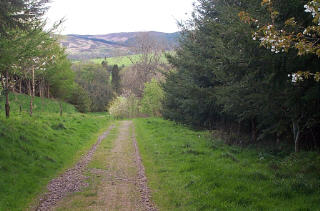 The caravan site is down behind the trees on the left
Alnham and the weather really gave us a kicking it got cold dark and very wet, with hailstones and heavy downpours.
Then as quick as it came it went again and the sun was shining but still always that Northerly wind in our faces.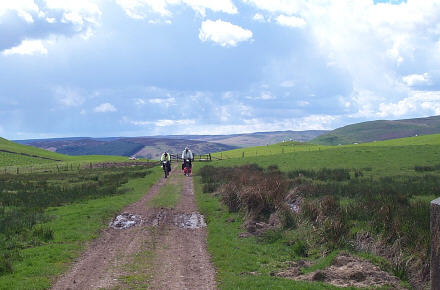 We dropped into a village called Brandon and it was just before 5pm the sun was shining it was 6 miles to Wooler then disaster struck Graeme had a puncture, first problem for days. Ah well it was pleasant in the sunshine as Colin repaired the tyre.
Little did we know what lay ahead? Wind, rain, flooded rivers that we had to cross on a rickety bridge, and then right towards Wooler over Reveley Green and hailstones the size of golf balls.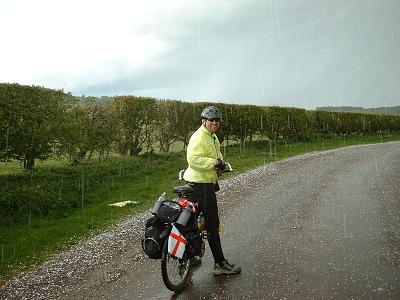 Just Grin and Bear It!!!
Interestingly I have just received a pamphlet from Sustrans wanting photographs to Show the National cycle network being used. Would they publish our pictures I wonder?
We battled on climbing some steep climbs and then at Iderstone Common the toy box fell off the bike big style, the route said down a rough track over a ford. Well it was a very steep rough lane I consider totally impassable with full panniers, down a muddy track in heavy rain, I was really struggling. Colin as usual was out in front and hit the track top at speed, in the slippery conditions he did not dare brake so had to ride down a steep bank in what was like a river bed surface complete with running water and slippery rocks. Graeme and I got off and pushed but it was so slippery that you could hardly stay on your feet. Most people at 5:15pm on a Saturday afternoon have their feet up watching the football results not sliding and fighting through mud with torrential rain and hail.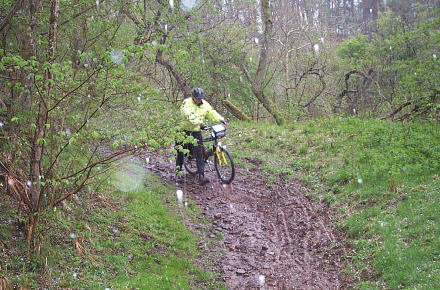 We had to push and ride then push and ride, eventually coming to a tarmac section. Fortunately we had a downhill ride all the way into Wooler. The weather was so horrendous we bailed out off the off-road section and took the road option into Wooler and the welcoming Red Lion. Our destination and overnight stay and what an entertaining one that was.
THE RED LION WOOLER
We arrived soaked, cold and knackered. The barmaid seemed oblivious to our plight and kept taking food orders over the telephone, till I pleaded with her to give us our room. When the penny dropped she was very helpful. Even allowed us to put our bikes in the dance hall, now there is a first, we did get a picture. The room was basic but very comfortable it was dry and warm, and so after the usual phone calls. The girls were all starting to worry as we were late in that night, I think it was nearly 7pm when we got sorted.
Then the fun and games started when we went down for a pint and food. The place was filling up with some characters. Two guys comparing each others tattoos one woman dressed up for a night out opened the door to the bar, literally threw a child into the room and said to some guy. "He's your son you look after him", then she stormed out. The guy gave the kid a set of darts to play with and then carried on chatting and drinking with his mates.
We asked for food, were told we could have take away or sit in the bar, as it had uncomfortable seats and a very smoky atmosphere we asked if we could go into the restaurant to eat. We got some blank looks but eventually we got served in the restaurant with some good wholesome grub, cheap and plentiful.
We rounded off the night with a few more beers in the pub across the road, then we crashed out leaving the bar area in The Red Lion at 11pm bouncing.
We were asked what time we wanted breakfast.
We asked for 8 am, to which we got a startled reply
"most guests don't come down till 9am and then they don't eat much as they are usually too hung over."
We asked for a cooked full English breakfast for 8am?
© This site is copyrighted, Mal and the Multiday men ©