Saturday 6th June
Desborough to Warwick
(52 miles)
(Colin finally breakís down)

The last day always mixed emotions day every year well for me it is. Great to end the ride and another challenge and epic ride achieved, well did we manage it this year? And sad that another great holiday has come to an end. Itís a long way from Skipton railway station in 1997.
We had said 7.30a m for breakfast so we could get an early start.
So it was over to Ghurkhas once more for breakfast? We were there at 7.30am and eventually we found a door open and it was a great breakfast we even got two eggs each as we were cycling.
The chef also came out and wished us well.
So all we had to do now was pack and collect our bikes. Colin went round to get the bikes from the boiler room and that was that or was it, next we saw the Waiter riding the bikes past our room window with great hilarity. We even managed to capture the moment as he rode Mal's bike past the window.
Cycling Waiter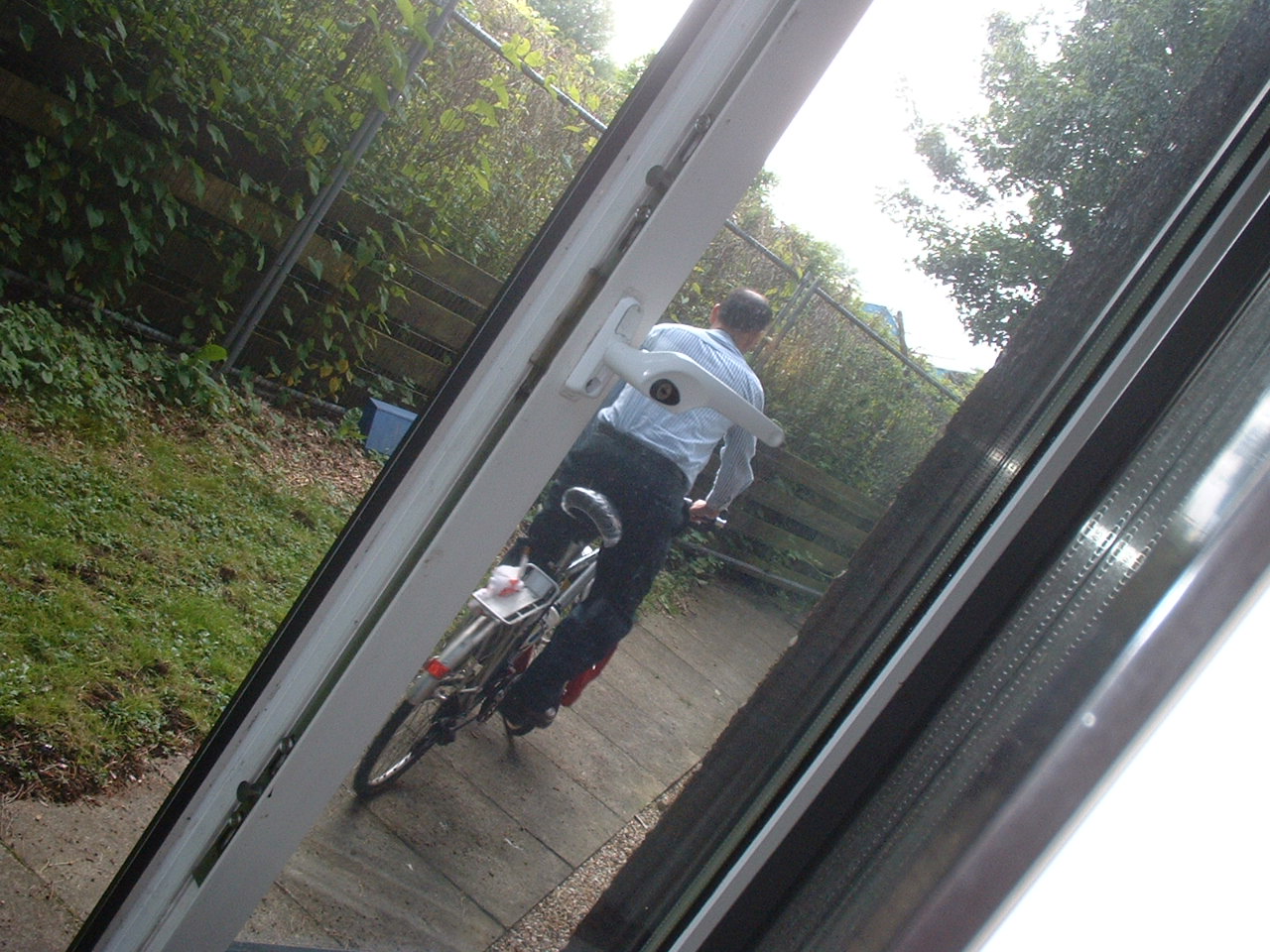 After a lot of laughs at the Travel Plaza we were ready to hit the road for the last day.
Just after 8.30am we were on the road. We had to hit the A6 for about a mile then swing off on the back roads and back on route once more. An early start on a Saturday morning the A6 was quiet.
It wasnít long though before we hit the first hill in Bay brook village it was fete day too. We also crossed the River Jordan, Nepal and Ghurkhas last night Jordan today? I thought we were in Northamptonshire?
Crossing The River Jordan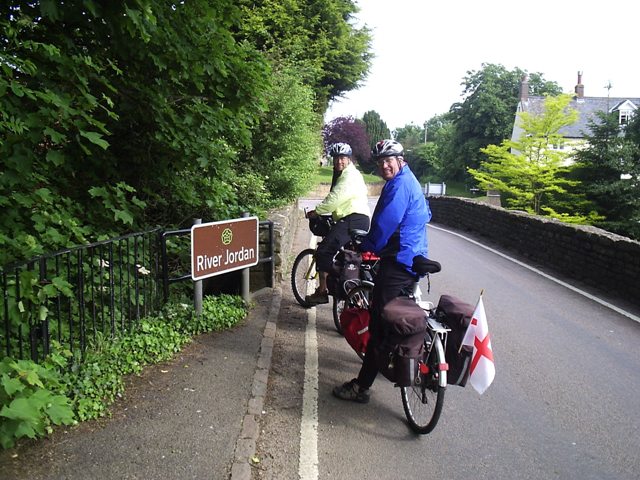 Graeme' s map had a crease in it at this point and it had rubbed away part of the roads, which he had guessed and penciled back in.
The road he had drawn in was at the top of a long hard climb leaving the river bottom. Luckily the road did exist and it was flat and quiet. I vote he draws all the route next year.
After that the the roads were undulating and we made steady progress. The route took us via the site of Battle of Naseby. Graeme enjoys his battlefield visits, Naseby it transpired it was fought in around several sites with lots of small skirmishes.

Naseby Battlefield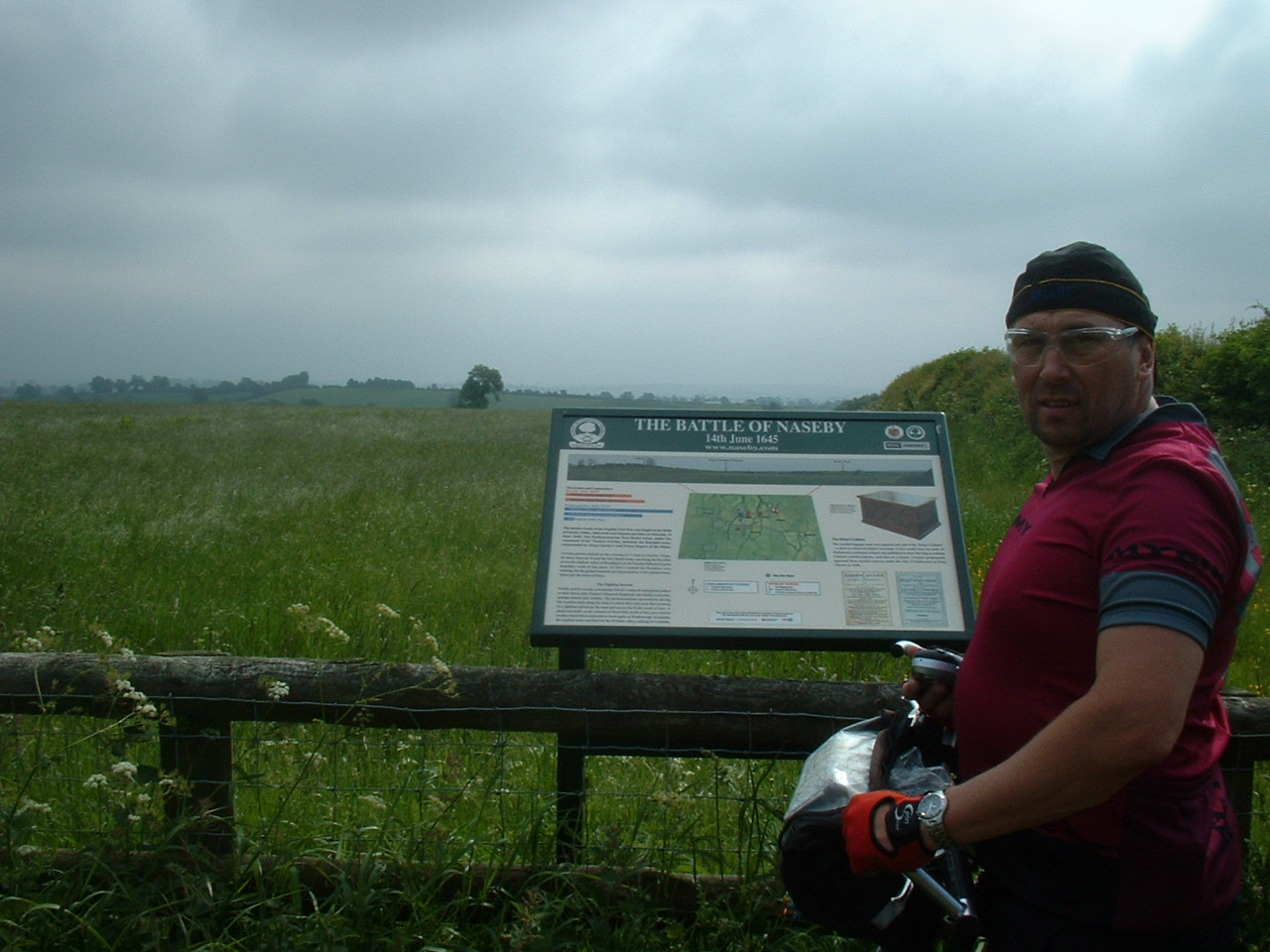 Into Naseby village itself and it was Pie and drinks stop. A nice village store in the village I bought Cornish pasties and drinks.
Shop Stop note the wicker basket not a metal supermarket type.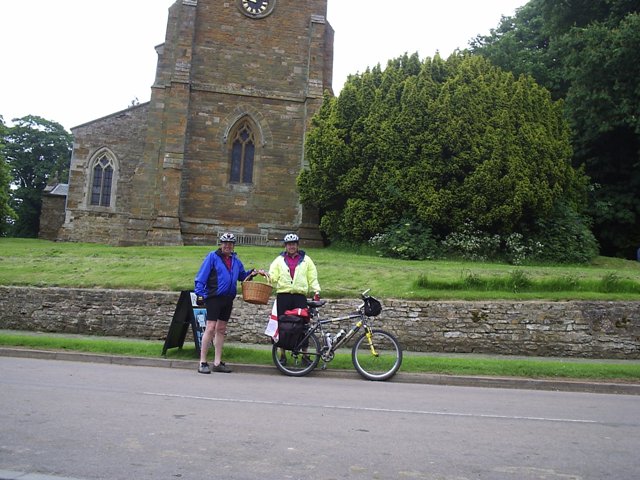 Out of Naseby and there was more climbing, but the best was yet to come.
Gluisborough a small town, on the side of a very large hill.
What a climb the road was nearly vertical and went on forever. Graeme and Colin got well in front of me but we all plod up in our way, I didnít have to push?
Colin pushed on ahead he always attacks hills, Graeme shouted to him stop at when you get to the snow yes it felt that high.
But what goes up must come down and we were rewarded by a long ride along a ridge then a long steady downhill through Watford village and crossed the M1 at the famous Watford Gap services.
.
Crossing the M1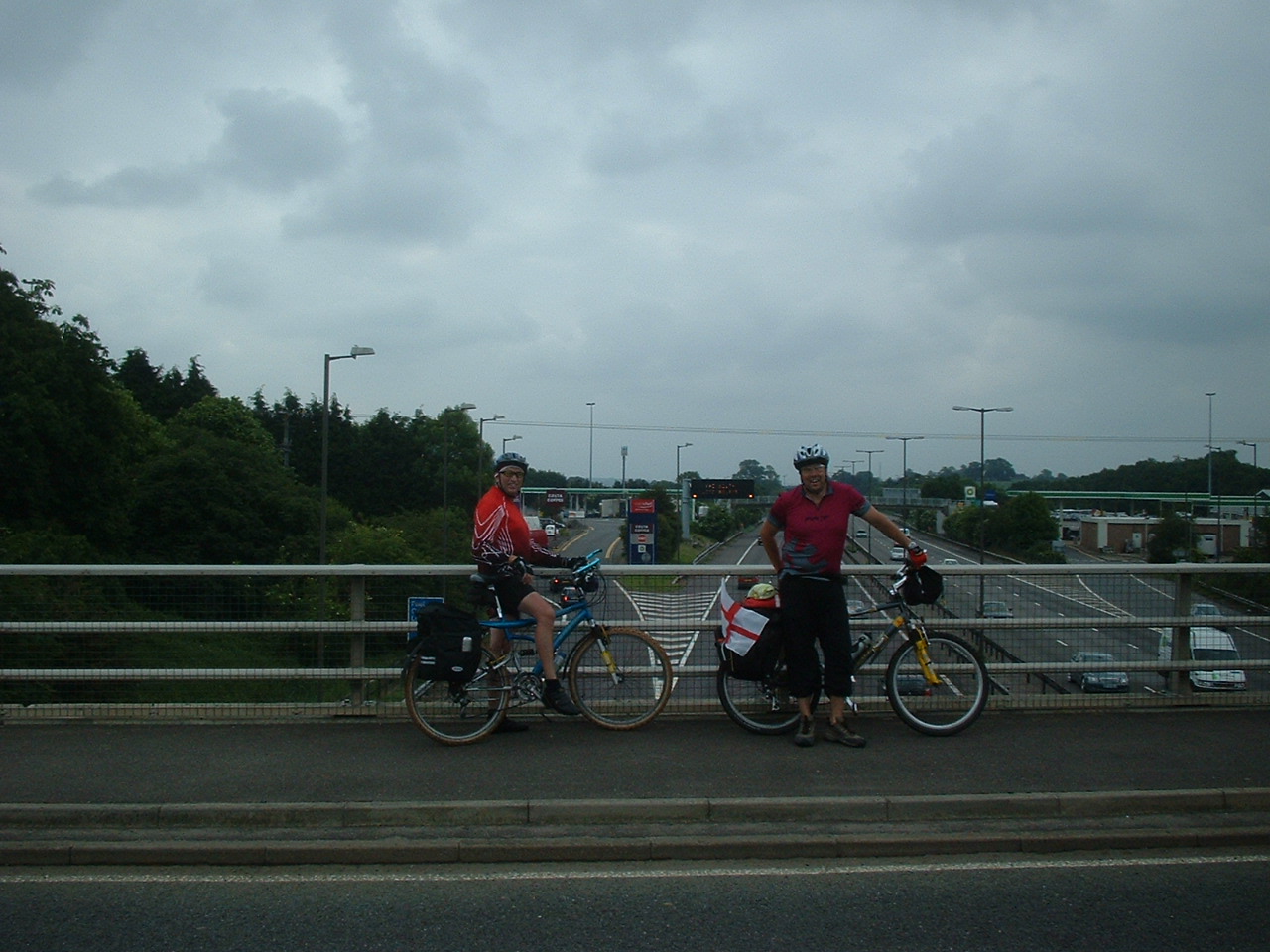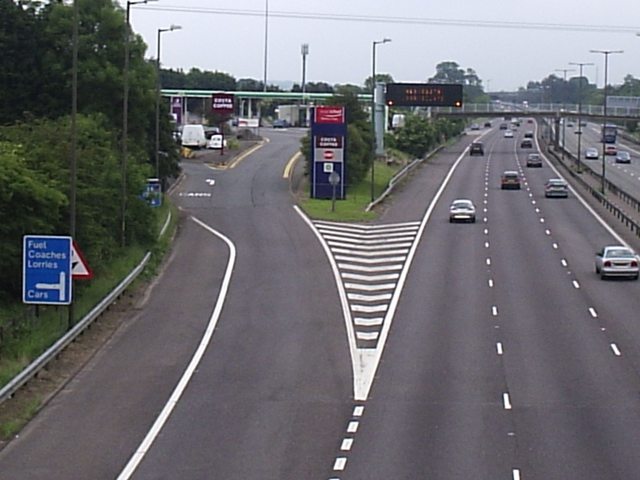 While we were crossing the M1 Fire Service from Gluisborough went flashing past all sirens blazing next police cars on M1 with sirens. Time to slip back into the country lanes I thought. It was a steady climb away from the M1 as we passed one lady walking her dog she said thereís a good pub in the next village. We must have looked as though we were struggling.
It was then a long steady climb up and up towards the village of Barby.
As we were steadily climbing we passed a guy walking briskly the same direction. About a mile or so later we pulled in to have our lunch break and devour the pasties and hot chocolate. We had been there for quiet a while when the same guy walking came along the road once and passed us. I had to ask where and how far he was going. He stopped to chat and said he was off to the local cricket match in Barby he did it every week walked the couple of miles up to the village to watch the cricket and have a few beers he then got a taxi home. Now thatís support and dedication.
Another strange thing while we were having lunch in the field gate in the middle of nowhere, after lunch walked into the field for a comfort break and found a Police No waiting cone from Hampshire police? We were in Warwickshire. This caused great amusement and we had make use of the sign.
No Parking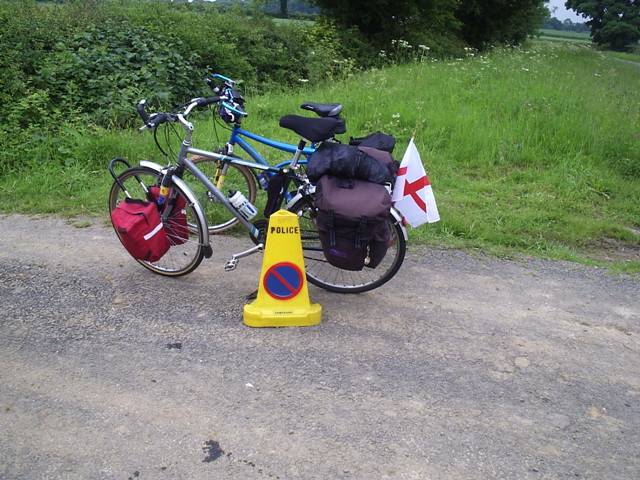 It was time to press on up to Barby what a long long climb and then at the Cricket ground crossroads we had a long sharp descent. Down through some more pleasant villages across a plain known as Grandborough meadows
Then on to Multidaymen way markers. We crossed and rode part of a previous ride through the village of Broadwell. We last passed this way in 2002 when we rode from Bath to Marton le Moor.
Wow a lot of water has flowed under the bridge since then?
We were now getting closer to Warwick.
We crossed the fosse way at Offchurch and started to pick up the signs for Royal Leamington Spa.
We were going well unfortunately as we were climbing Snowford hill and nearly all getting wiped out by a stupid young man driving a red Subaru overtaking and not appreciating the hazards around him plus the look on his face as he flashed by the vehicle driving him?
Colin pulled up sharply. He had developed a major breakdown. Yes Colin on his Micmo. His back wheel rim had started to break up the rim was splitting away at the side. He'd stopped because as the rim had jammed in his breaks.
Broken Wheel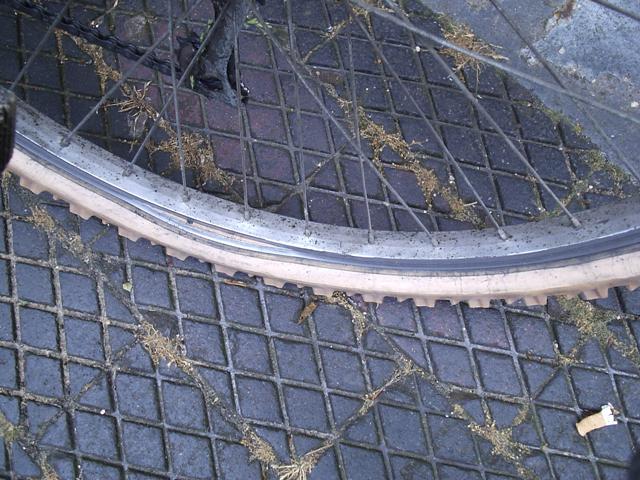 He let out some air to ease the pressure and pressed the rim back into shape, we started to limp along.
We hit the Sustrans Route 41 signs and fortunately got onto the Offroad section which took us down to the Grand Union canal just outside Leamington. We started to limp in phone calls to the girls to pre warn them and get them in a position to help. Even though they said they were shopping in Coventry. Graeme said your joking.. Fortunately they were?
We had to take off Colinís panniers and lightened the load and let out air he was going ok we followed the canal into Leamington. Did a short detour through Leamington and then back onto the canal side into the outskirts of Warwick. It was down to me now as I had recced this route last time we had been to Warwick races a few weeks earlier and suggested the End of the ride at Warwick castle. I knew we were ok and just followed the Town centre and castle signs. Some guy pushing a bike with ladders on even told me the result of the Derby (it was Derby day) totally unprompted.
We then rode along a one way street and in time honoured Multidaymen tradition we rode in together. The Girls were all waiting at the Castle gates. I could see them from a fair way off well Jill anyway and so round a roundabout and to great hilarity we made it. Another ride over. Mixed emotions lots of photographs. I always smile to myself it is fun to us, but as we were next to a busy roundabout we were getting lots of strange looks. We had made it Colin had limped in.
In the middle of it all a blind man with a guide dog came up and started talking and asking questions about our ride and where we had come from.
Weíve made it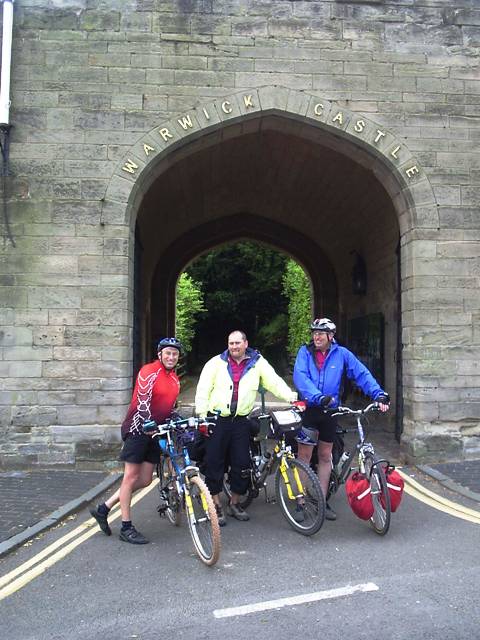 The riding was not finished for Graeme and I Colin pushed his bike down to his car which Karen had brought. Graeme and I rode down through the town centre and the last couple of miles to The Hilton Hotel our hotel for that night. I knew it was a flat ride.
Lovely sunny afternoon too as we both rolled into the Hotel. We were not quiet finished. I walked across the grass at the front of the hotel a woman came running after me Shouting excuse me, I thought donít please donít tell us off for walking on the grass. No she had seen the bikes and hoped we had a pump so she could blow up her Pushchair wheels. Happy to save the day.
So it was time for a long soak in a bath Jill had bought a few beers too.
A nice relax and reflect before we strolled all changed into dinner.
A Fantastic dinner it was too I can highly recommend it. Lovely relaxed evening with more photos and the annual prize giving.
I had asked Jill to buy some glass mementoes with Warwick castle she had done a great job finding them.
I had rehearsed a bit of a speech to recount this yearís ride, but didnít really have to say a lot as all was said over dinner.
So after a few drinks and a short stroll it was time for bed and rest our aching limbs.
Well my aching limbs anyway.

Mileage
Graeme and Mal - 255 miles
Colin Ė 225 miles