Friday 5th June
Grantham to Desborough
(58 miles)
(Colin gets a puncture and the Midnight caller?)

Such a rare event Colin getting a puncture, but not till later. Up boys and at em again. We all shared the same room so Colin made us all a cuppa, and we were down for breakfast around 8 20 a m breakfast was standard fayre and we all ate in reasonable spirits well we did at our table everyone else was sat quiet and miserable?
We saddled up and soon we were into Grantham. Where we met the first character of the day. That's one thing about these rides or any road trip you never know what the day will bring.
Today it was a Columbian on a bike with more panniers than me. We stopped in the town square which even for 9 30am in the morning was still attracting the usual drop outs sitting under the tree and taking up bench space. Well as we stopped I saw this character with his bike and fully loaded with panniers and his coat covered in badges. As we stopped Colin and Graeme left me with the bikes as they went to Morrison's supermarket for the morning provisions.
So I was left with this guy who was totally lost, all he had was a small scale map of England and was obviously following the main roads. He wanted directions to Newark and then on too High peak (between Manchester and Sheffield) a good ride through large conhabations.
I helped him and gave him directions to Newark. I also told him to go into W H Smiths (or other reputable stationers) and get himself some detailed maps and cycling maps of the areas he wanted to visit.
I don't think he had any money and seeing the 3 multidaymen he was hoping of tagging along? That was my theory. Anyway Colin and Graeme who had been hiding in Morrison's miraculously came back when he had gone on his way. I re counted the story of the Colombian cyclist to their amusement then we got started.
Having played cricket in Grantham many years ago I was sad to see the ground is now Tesco's.
And also I knew we had a climb out of the town and boy did we straight into it... cool morning legs still stiff, really makes you dig deep.
But all banks have a summit eventually, and a right turn and we soon slip quietly out into the lanes again. Just as Graeme promised we would.
We crested the summit and followed country lanes on a ridge south; it was overcast but a still morning.
The roads were so quiet and signs so few and far between we were debating which county we were now in. Undulating countryside and pretty villages, we stopped at one Buckminster wonderful. We sat on a bench in the village cricket ground, not a bad ground in fact palatial, and we had our drink and biscuits... This is where Graeme started his stock saying which we repeated many times as we cycled through southern Lincoln shire and Rutland "Credit crunch what credit crunch". A very affluent part of the United Kingdom.
We eventually resorted to reading a parish notice board to reveal we were in Leicestershire, and then very shortly we hit the Rutland county border the smallest county in England.
The Picture says it all.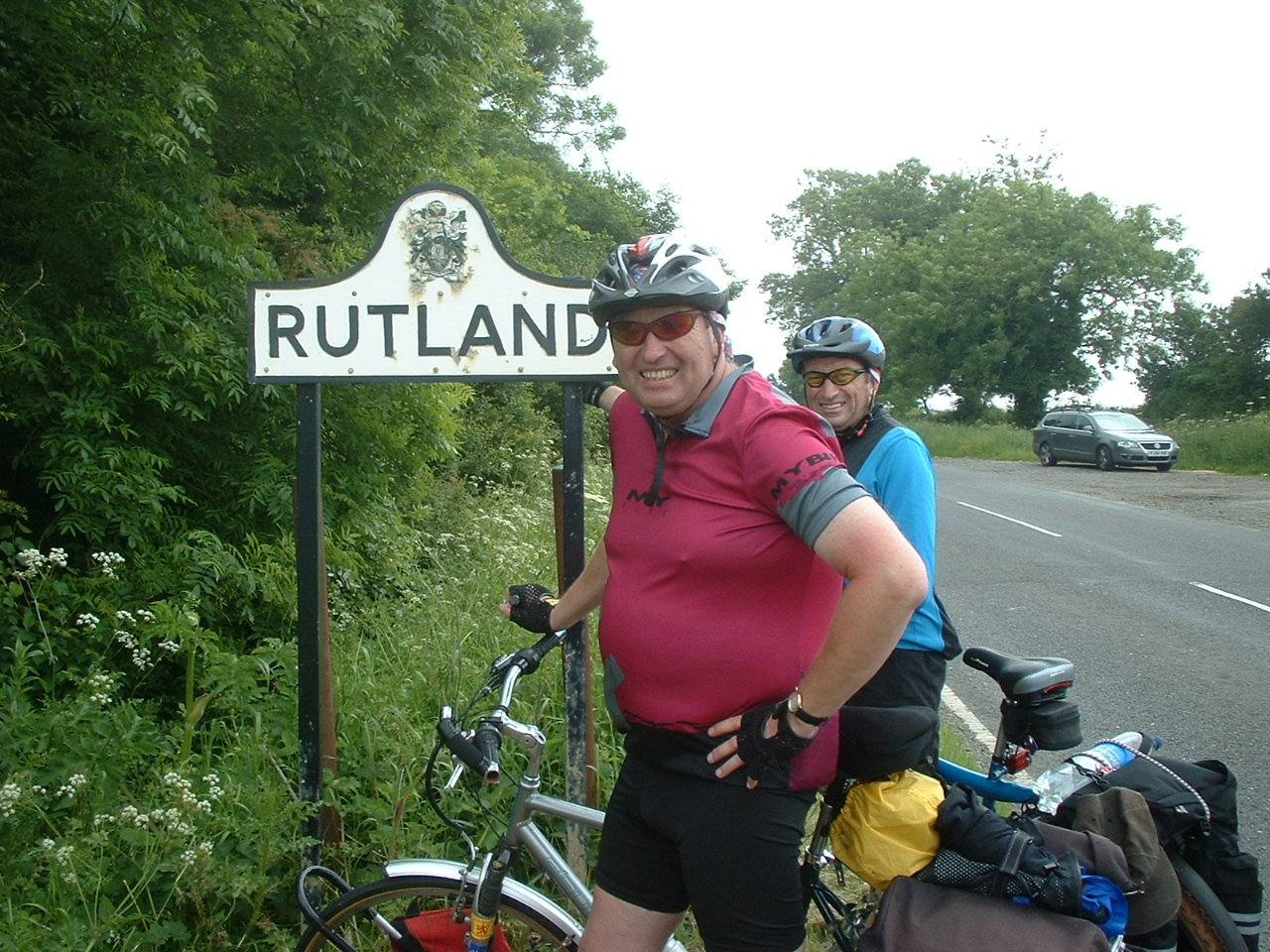 We had never really toured Rutland and we were taken by the rural back water and the pretty villages.
Market Overton, Exton to name a couple. Very pretty villages. Exton was a thatched cottage picture box village just off the beaten track and unspoilt.

Market Overton Couple of Durham Lads in the Stocks
Northern Peasants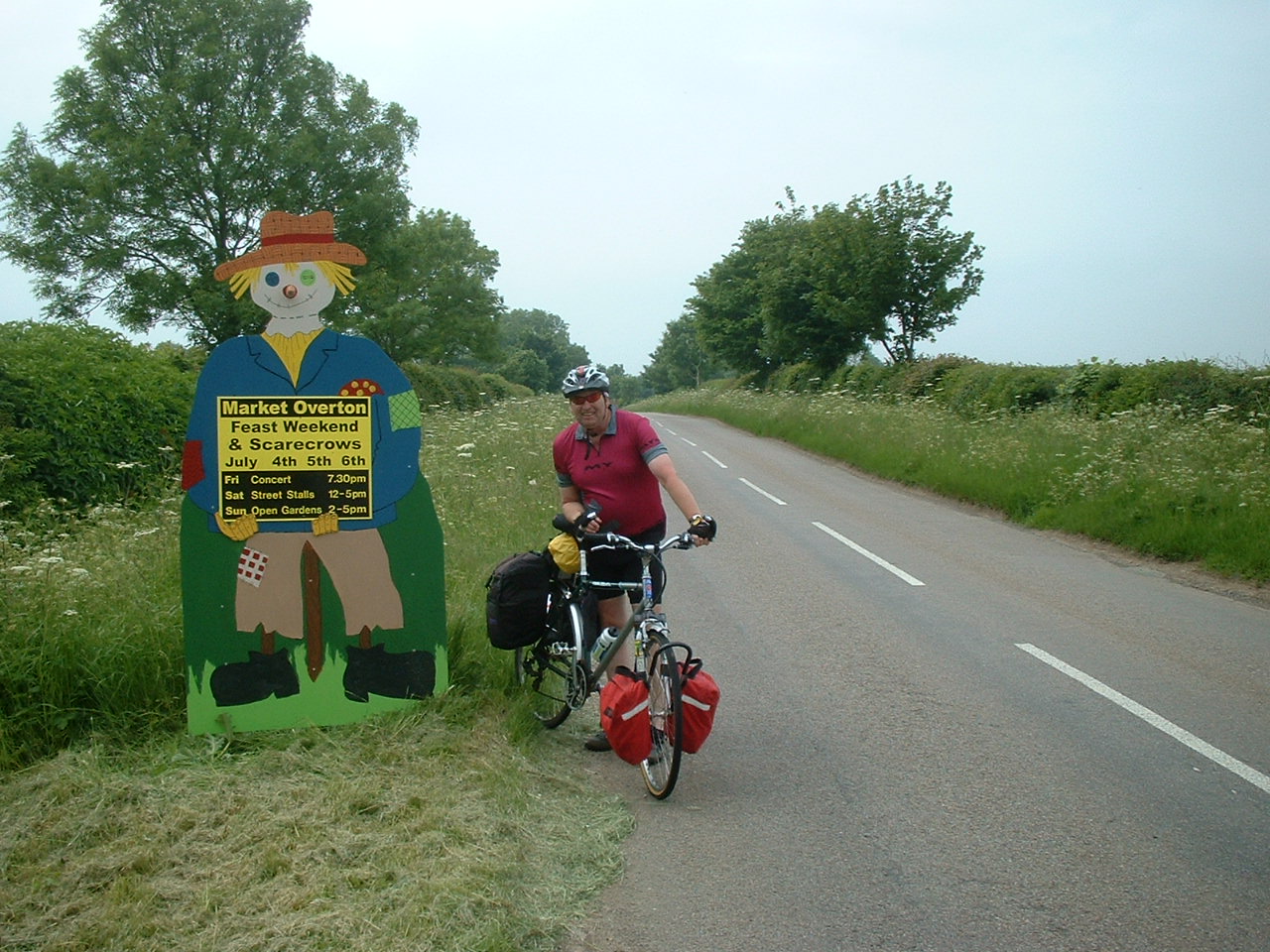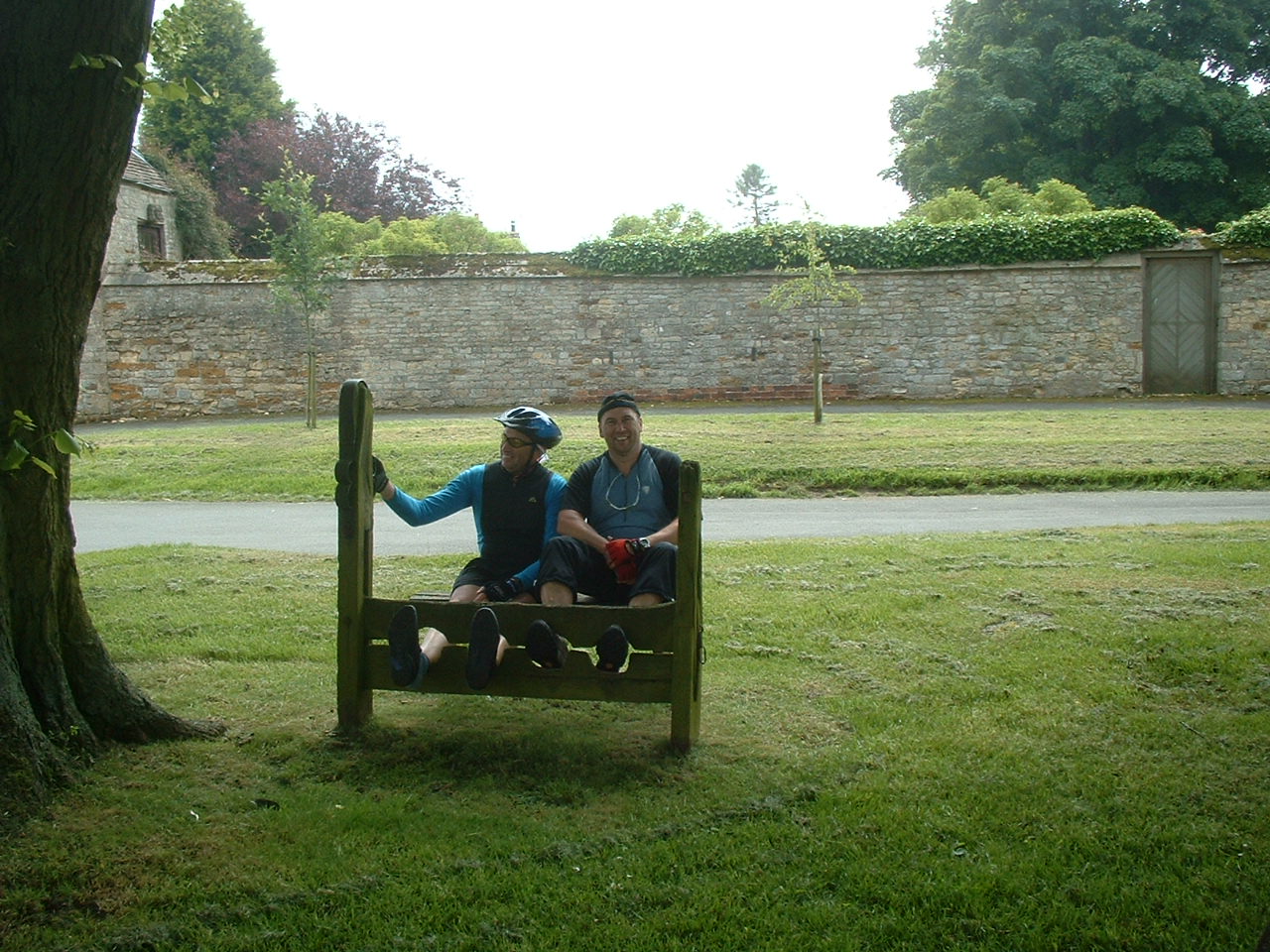 And onto Rutland Water, for a late lunch stop.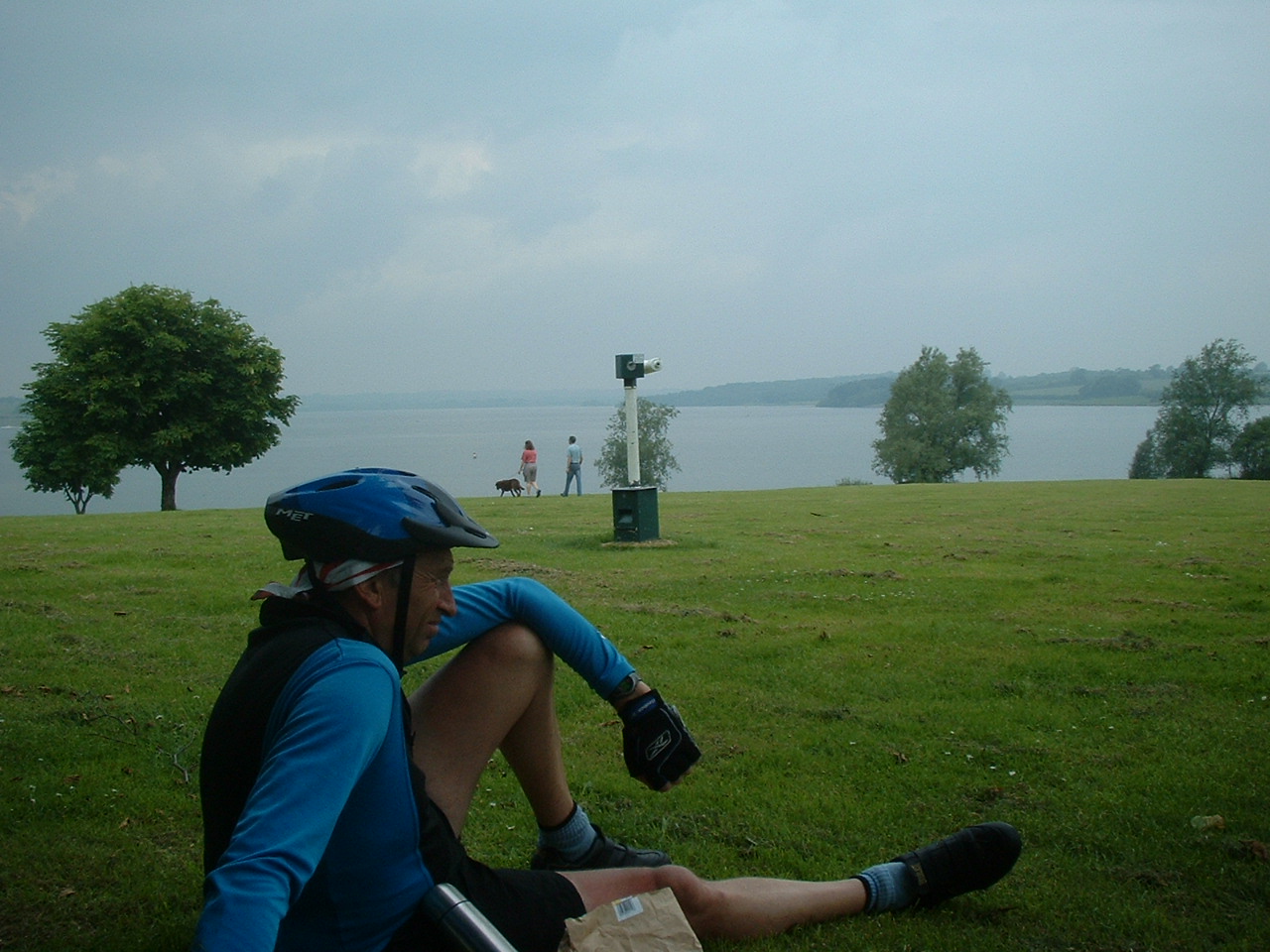 We had a long stop at Rutland Water and had a laugh; I went up to the cycle centre Graeme said I would be moved on anyone looking at the state of me on a bike would put them off hiring one.
One observation lots do and don'ts on notice boards everywhere. We commented that there were more don'ts?
Cycling alongside Rutland water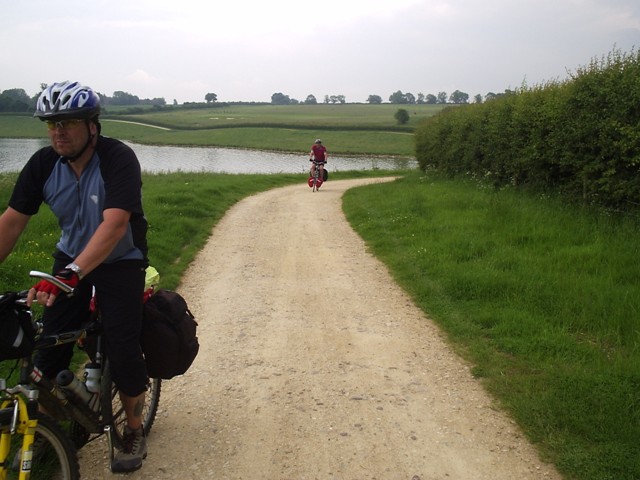 We found the cycle route along the side of the water, which led us too the Lyndon Nature reserve where we could view the ospreys in the nature reserve and help build an Osprey nest. Well when you are tourists you do it.
It was all ok playing around the cycle route and the nature reserve but after a couple of hours we got back on the road. First it was a climb away from the water. A steep climb. Then we hit the undulating roads, now I am not saying its Graeme's eyesight but for the first time in living memory we went slightly off course only a mile or so?
But we also after Rutland water had to climb in and out a couple of real steep valleys.
We ended up having to go through Uppingham in pouring rain and a couple of miles on a main road. We eventually got back on route and found a real lovely flat road along by Eye brook reservoir. Here the most unusual thing happened. We had stopped for a drink break at the bottom of a hill, as we crested the rise? Colin got a puncture.

Running repair
Caption competition?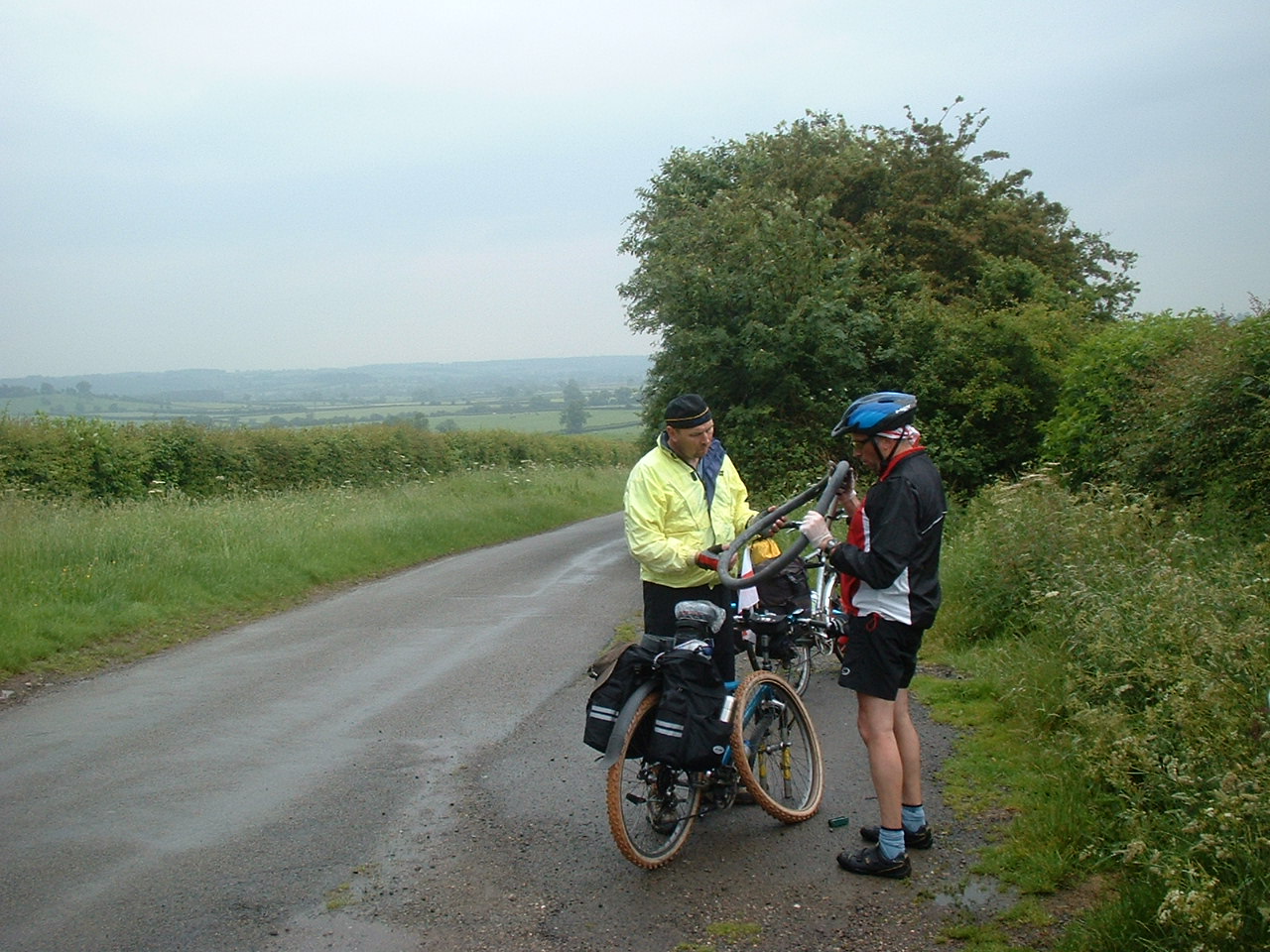 We cycled on through the Eye brook valley and a new landmark for the Multidaymen and a new county Northamptonshire!!! I need to work out how many we have now cycled through over the years
.
A Northern Raider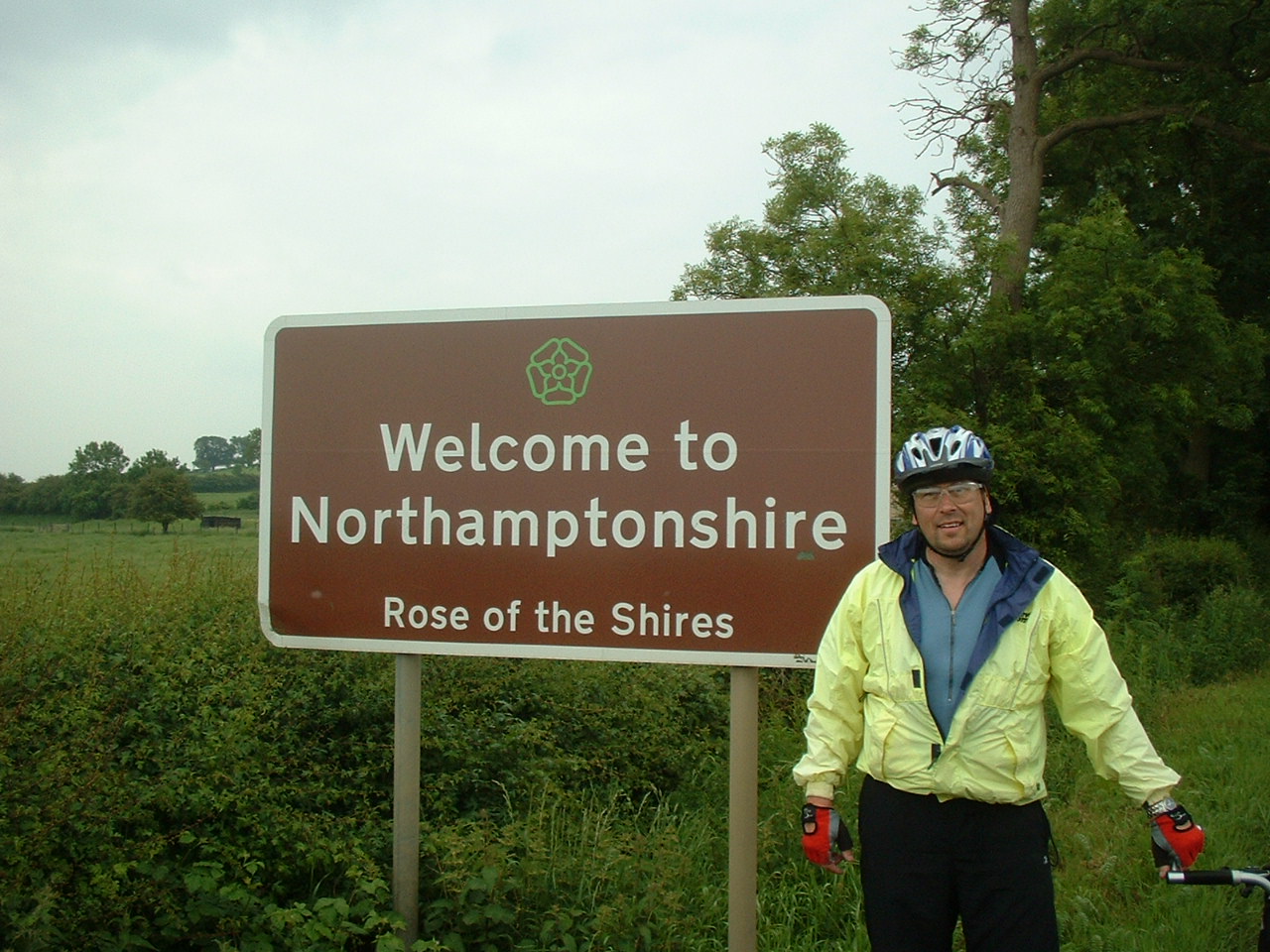 We knew we were close to Desborough but the last few miles from Rutland water had been tough going. With some tough climbs. We eventually came to Stoke Albany and picked up our first sign for Desborough 1 ½. Cycled in on the back road' and after the pretty villages a bit of a shock industry and scrap yards. We eventually found the digs. After a small detour but fortunately we were on the right side of the town.
The Travel Plaza a converted Travelodge ran by Nepalese , but they were very helpful expected us on our bikes, reception was helpful too and nicely laid out.
The room had 3 beds very comfortable if basic.
We decided to eat in the restaurant next door, aptly named the Ghurkha's which greatly amused Graeme the ex Royal marine.
When we called in and sat down a 50th birthday party was in full flow, which added to the atmosphere. We had a great meal and excellent friendly service. We even got a piece of Birthday cake! Even though they did forget Graeme's starter but he got two giant onion bahji's as compensation.
We have also got to thank Mum and Dad for the meal, as they had given Colin £30 for a meal on them. So it helped towards the meal.
But the night did not end. We were shattered and after a couple of cobra beers we were all ready to crash out. However, when we arrived on our bikes earlier that evening, it was raining. We had asked where we could leave our bikes. We locked them to the wire mesh fence at the back of the Hotel. We had placed our trusty shower caps on the saddles.
Colin had finished his 11pm call to Karen and we were all fast asleep when the room telephone rang. I woke with a start couldn't find the phone in the dark and was stumbling around. Eventually I answered the phone. It was night porter who said he was very sorry but he had been told he had to lock our bikes inside the secure boiler room. I said they were ok there and we were happy to leave them. No he insisted that they had to be in the secure room. He was obviously under strict orders and very apologetic. There was no way round it Graeme and I scrambled some clothes on, got the bike lock keys and we ventured out into the wet night to put the bikes in the Boiler house.
Can You believe it? I can .More stuff for the log.
So eventually we crashed out. Crazy thing was tonight we had agreed to set the alarm for 6.30am and breakfast at 7.30am to get an early start for the last day to get into Warwick in a decent time.
Life on the road?