Its flat down to Trowbridge the Landlord of the guest announced at breakfast music to our ears.
He wasnít wrong.
The weather was overcast but set fair.
We had a good breakfast in a pleasant breakfast room overlooking the garden , unfortunately something hadnít agreed with me and I was struggling with an upset stomach.
But I was determinedto struggled through.
Everything was looking good till I got my bike ready and damn a flat. we pushed the bikes into the local park to repair the puncture, well thatís when the fun started, I was spinning my bike upside down and two old guys stuck there heads right into the bike wheel enquiring what was wrong? Then the park keeper had to add his two pennyworth and exercise his territory, we were trying to repair the puncture right outside his hut and it was obvious he was not happy. Even though there was acres of room,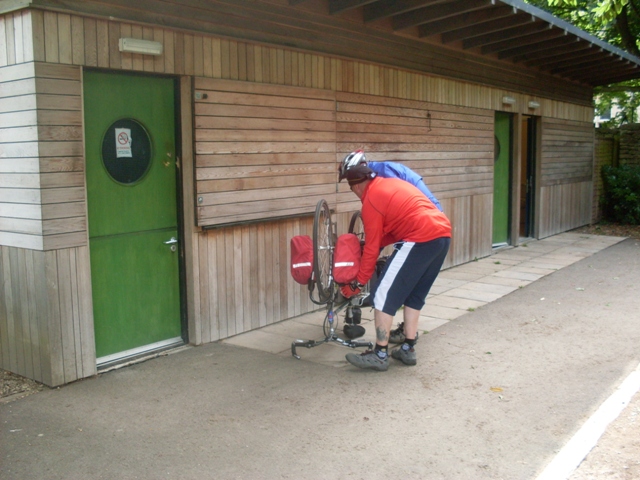 Ready to fix the puncture
So bike repaired we were on our way into the town for pasties and drinks.
We didnít hurry and we never left Cirencester until 1100am. It was a lovely straight flat ride down towards Cotswold country park, it would have been if it wasnít for my Upset stomach. We stopped at the Cotswold country park for a look round? Not really very exciting more like a schools activity centre?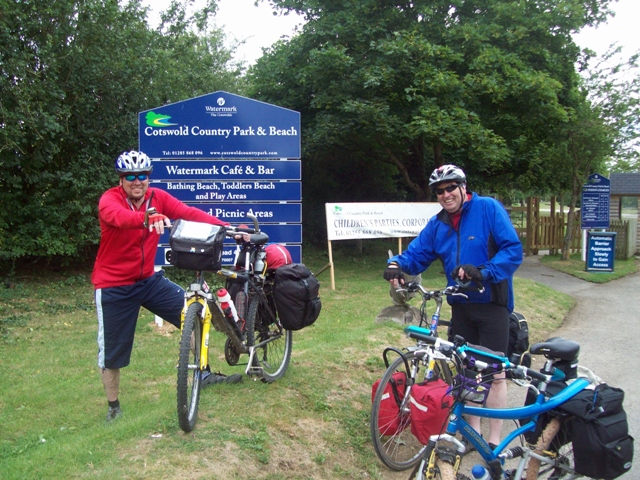 This picture does not tell the true story!!!!!
(I was feeling delicate!)
We didnít stay long at The Water park and picked our way south on quiet flat country lanes, we were getting down to the Wiltshire border.
Minety village I got another puncture, thatís it,, whip another tube in that cured it, so Colin repaired my second puncture, while I started to feel a bit more upbeat, and took some relief in a nearby field!
It was then a steady run south into Wiltshire and through the flat lanes great riding. At one point we passed Callow Hill a Multidayman marker point we passed that same junction going north on our Bath to Marton le moor ride 2002 as part of the Lands End to John O Groats epic!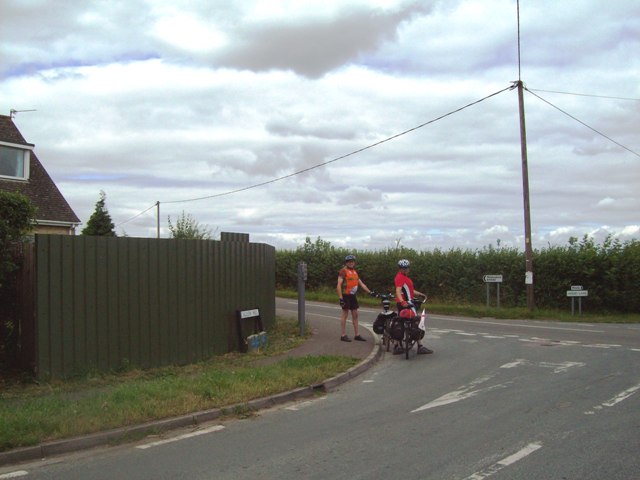 Callow Hill
( Seven years on )
We stopped for lunch in a tiny village called Tockenham using the picnic table in the childrenís park there was no one around it was very rural peaceful and relaxing.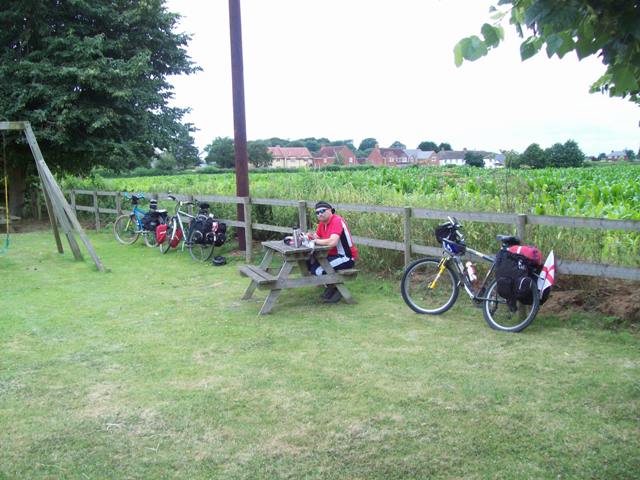 Well for some Colin couldnít resist climbing around the park!!!
How Old is He!!!!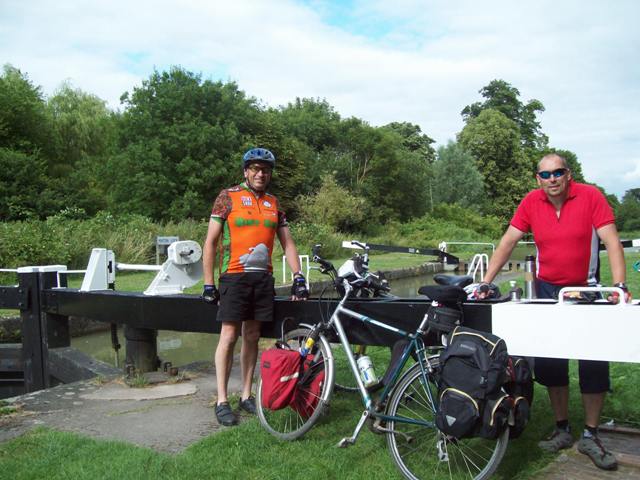 Tockenham Lunch Stop!!
A lovely lunch stop then at Compton bassett another pretty village it was the Climb up onto the North Downs! Morganís Hill
A long steady climb on quiet a busy road but we did it in Multidaymen style, but all three grind their way to the top.
In our different styles,
Graeme grinds, I granny gear and climb at my speed , Colin attacks and races on ahead to the top!!
What goes up must come down and it was then a long descent down to the Kennett and Avon Canal side at The Barge inn just outside of Devizes. It was now a flat 12 miles along the canal towpath to Trowbridge which was not uneventful. We dropped down onto the canal side and then it was a flat with one downhill the last 12miles to Trowbridge.
Canal cycling sounds fun and flat well it is but their are other hazards. And the Devizes to Trowbridge stretch was the same. Dog walkers, Old men tottering about on sticks. A family unloading a boat mooring up just as we tried to ride past.
In addition to this we had another addition to the cycling band.
Colin Mouth organ (or would it be Graeme)
And Now we had a Guy cycling along the Tow path with a set of Bongo drums on his back. But it didnít end there read on.
You never have a dull moment even a guy on a bike half way to Trowbridge who caught me up. I usually stopped to let them past, I did to this guy but he said totally out of breath. Iíve had enough Iím going back! Heíd only pedalled out of Devizes!
The most interesting part of the ride along the canal was Caen Hill locks a series of 29 locks over 2 miles it takes a Boat 5-6hrs to navigate. with holding basins so there is enough water on hand for each lock to operate.(thank goodness for Google).. A fantastic engineering feat.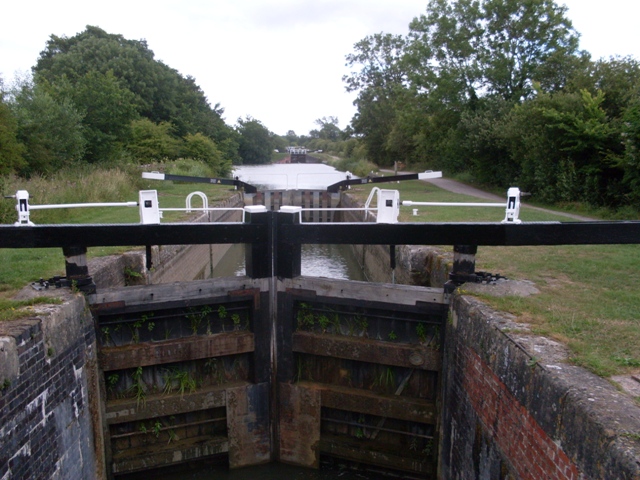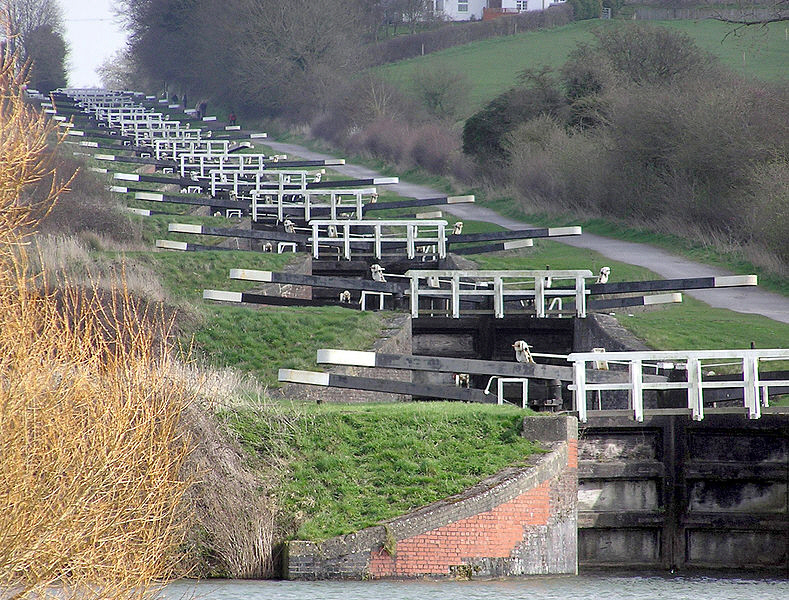 Caen Hill Locks Devizes
We cycled into Trowbridge by not the prettiest of routes a cycle route into the town via the railway sidings and Wino alley. Yes their were 4 winos as usual hiding under a bridge on a cycle route.
Into the Town centre and was my turn to get the street map out which was not clear. The map in the town again not clear. The Digs were to be on the edge of the town typical, we were working out the route and I eventually had to phone the Lady at the digs who gave us good directions. Unlike the woman in a pink top who offered her services to help us as we looked lost, and her directions bore no resemblance to where we needed to be. well she did say she didnt know were the place was but that didnt stop her giving us directions! We found the digs right on the edge of Town, nice digs if a little different. A pleasant elderly lady ran the digs, and we arrived at the same time as some other guests which caused a little confusion, But it was good to relax shower and change, It was a good mile walk back to town but it was good to stretch our legs after a days pedalling. Not a lot on offer in Trowbridge on a Thursday night so we drifted into Wetherspoons, meal was good and beer was good, the clientele also very entertaining. (she was) Very entertaining !!!!
Contact the author for more details! Ö.give away was when he put his work boots on to walk home!! And his stilettos in a carrier bag.
Another good night for the multidaymen on tour.
Another town visited.