FRIDAY 10TH July
Trowbridge to Charlton Marshall
50 miles
It was going to be an interesting day today as we pushed towards the south coast. Another Blank canvas ready to be filled.
A Good breakfast and by just after 9am in sunshine we were ready for the road. Until the landlady came chasing after us! Yes we had paid, Colin had left his cap.
Into Trowbridge for provisions and around 10.15am we were on the road, It was a busy get out and We had to skirt North Bradley with its wagons and the edge of Westbury, then it was into the climbing. Long pulls and then sharp descents as Graeme in his usual style navigated us on the back roads around the Towns as there was no direct route.
We got to the edge of Longleat Estate and hit all the Centre Parcs traffic, funny we were pedalling along 4th day on the road, panniers flapping and covered in dust, all these pristine mountain bikes glued to the back of 4x4 cars or onto the roofs of estate cars.
We had a long steady pull out past the Longleat estate into deepest southern Wiltshire and eventually some quiet countryside along undulating roads towards Shaftesbury. We found a bridle way which was only half a mile long but took off a couple of miles by road, as we hit the road again we were obviously on some popular local cycle route as their was steady stream of cyclists, mostly day riders on racing bikes, but then there were two amusing cyclists among this group.
Funny cyclist number one was a small skinny man on a racing bike with all the gear on which looked in pristine condition, he overtook me with some effort. Now since I ride sedately, and I was fully panniered up however he then tried to run down Graeme and Colin and here is the mystery he succeeded in passing them but after giving him a headstart they then started to chase him and close the gap. He then hid behind a hedge and pretended he was answering a call of nature to avoid the overtake.
When I caught up with them it had caused some amusement.
Also on the same road travelling in the opposite direction was another cyclist dressed in leopard skin leggings.. Cowboy hat and among lots of other things hanging off his bike was a Guitar!
So we have a Bongo Player on a bike, A guitar player and we are supplying the mouth organist, we are slowly collecting a cycling band!
It was then pleasant cycling through some remote Wiltshire countryside with the odd farm.
We found a picnic bench outside Kilmington Home Guard club of all places for lunch. We never saw a soul as we ate.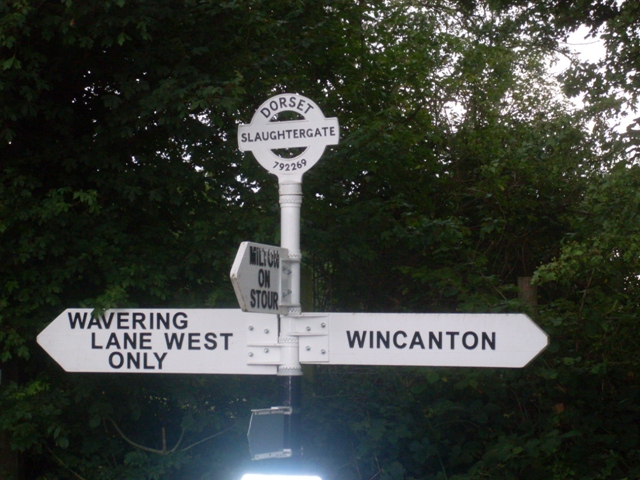 It was then a long descent of several miles down through some back waters to the Dorset Border and into the outskirts of a small town called Gillingham.
We picked our way down through quiet lanes and villages, as we approached one village a woman shouted "keep going" , and the way she said it was as if she didnít want us in the village at all, or was it encouragement I wonder?
Graeme had been warning us of the pending hill coming up and he was not wrong we stopped in Bedchester for some food and a drink before we crossed the A 350 and Fontwell Magna and onto Felston Hill. It went up and straight it was Graemeís way of getting us onto a quiet back road into Blandford Forum?
Talk about blood sweat and tears with one or another I made it. I was well behind Graeme and Colin, as I approached the junction and the Hill eased slightly I could hear the traffic. The quiet back road ended up being a rat run into Blandford, Graeme wasnt to know. It was downhill but with constant stream of very fast traffic, ah well.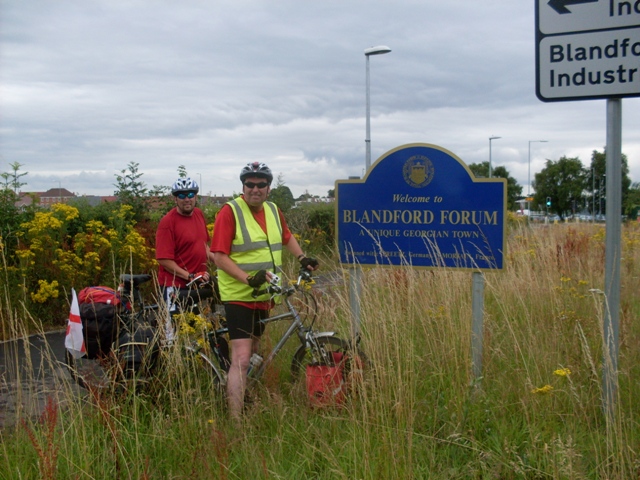 Blandford Forum
We made it into Blandford and it was a circular ride round the town to find the Poole road and the digs for the night, Weathervane Cottage. The owner of the B and B also made weathervanes for a living. Interesting man to talk to.
What a quaint place lots of small rooms, Graeme and Colin even had a Balcony, there was a mezzanine floor too. Nice digs and a nice couple. He was a keen cyclist and as well as the B&B earned his living making weather vanes!
It was the last night only 20 miles tomorrow into Bournemouth.
We showered changed and walked down the village to the Charltonís Inn
A good pub decent meal and a decent pint.
And around 11pm as usual we were all ready for our pits!