Windsor 2017
Day Two
Decided to explore a little nearer to campsite on second day
There was a set of locks on the river at the campsite and across the river was the village of Bray.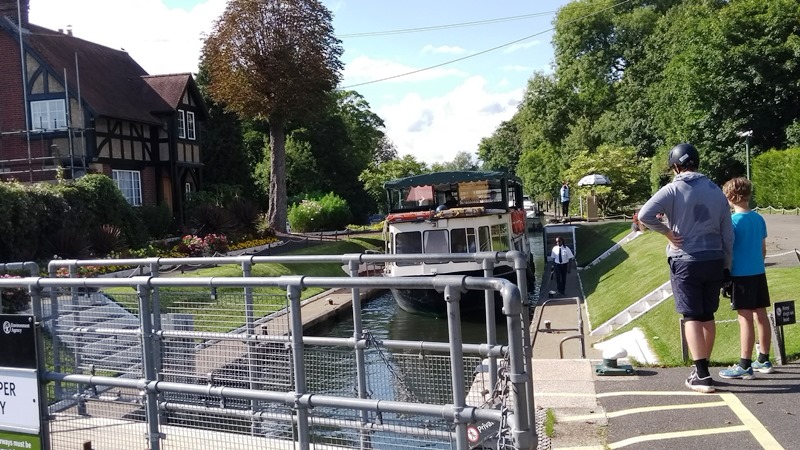 Busy locks with pleasure boats on the Thames.
We stayed and watched a few boats go through the locks, lots of private boats queuing up as well as the tourist cruisers.
There was a lock keeper and it was all mechanised so all the boats navigated the locks without incident.
Then we took the cycle route to Bray Village,
it was a nice ride beside the river, then the route took an unusual turn up to the M4 where there
was a barrier between the motorway and the bridleway.
Still a little scary cycling just a few feet away from speeding passenger vehicles and large heavy goods.
Fortunately it was only a short section before it dropped down away from the motorway into some trees.
Amazingly the noise from the motorway disappeared almost immediately and the peace was restored.
We cycled into the village looking for the famous restaurant
The Fat Duck a three Michelin star restaurant owned by Heston Blumenthal.
It was only a small village so it was not hard to find but there was a few other nice looking restaurants in the village as well.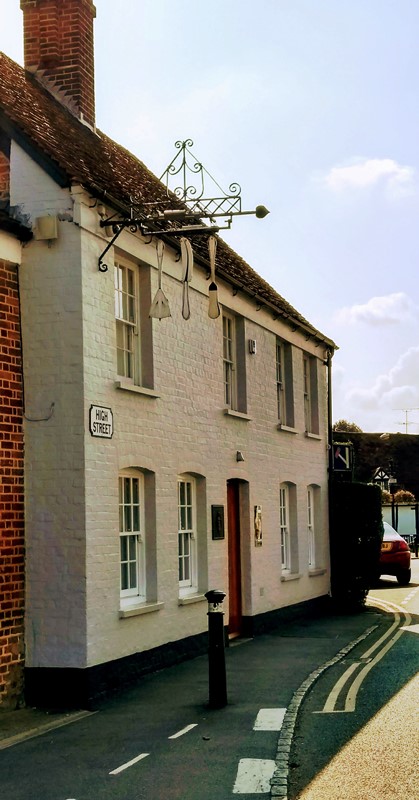 The Fat Duck Sign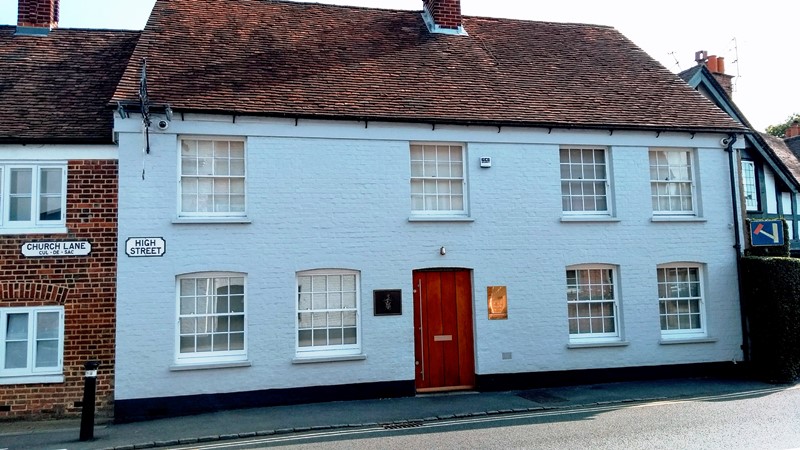 The Fat Duck Fronatge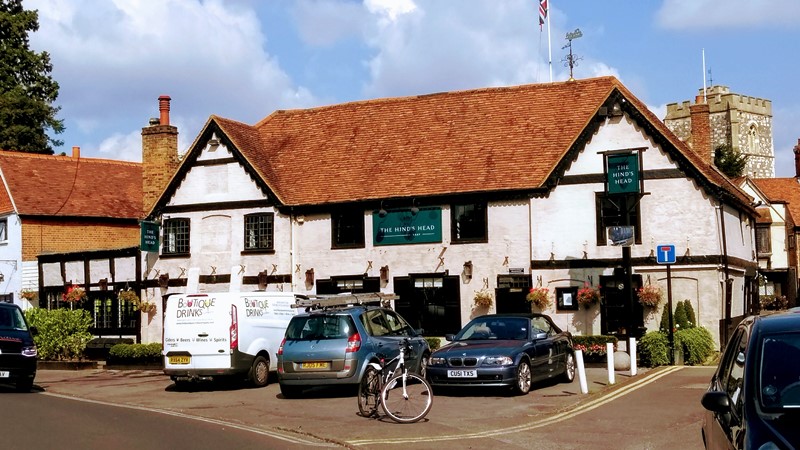 The Hinds Head another upper class restaurant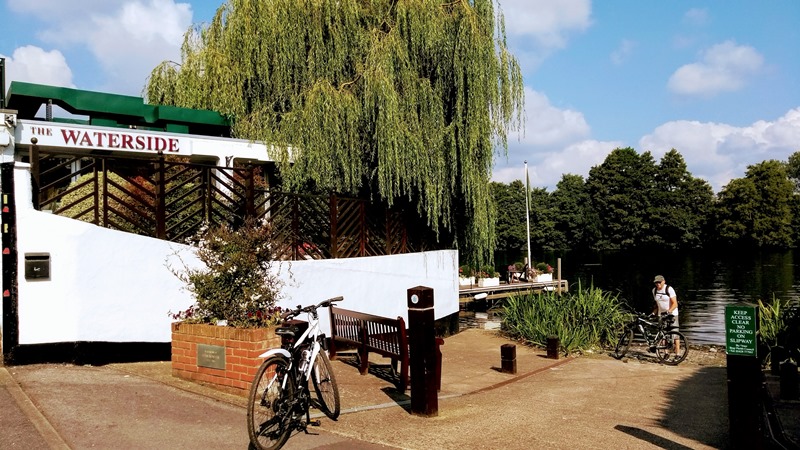 Another impressive restaurant with views over the river.
It was nice having a look around the village peaceful and picturesque.
Although a minor road it was popular with vehicles and cyclists passing through.
We had a good explore and came across an unusual building.
A hospital that had been founded in 1627. See the sign in the doorway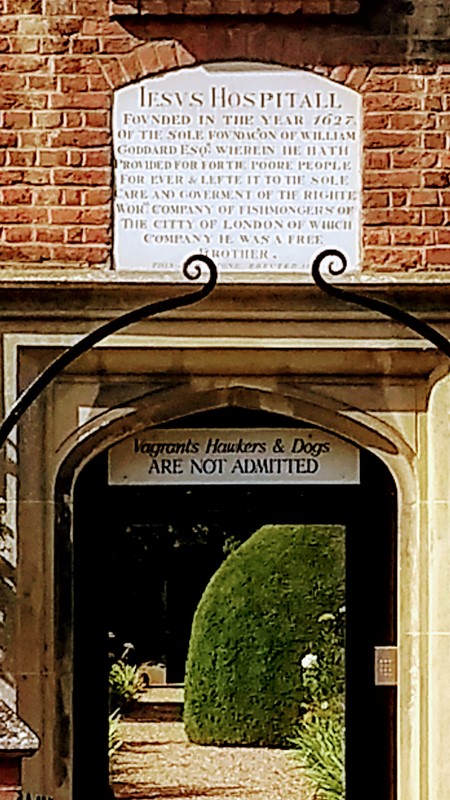 Guess they were very choosey who came in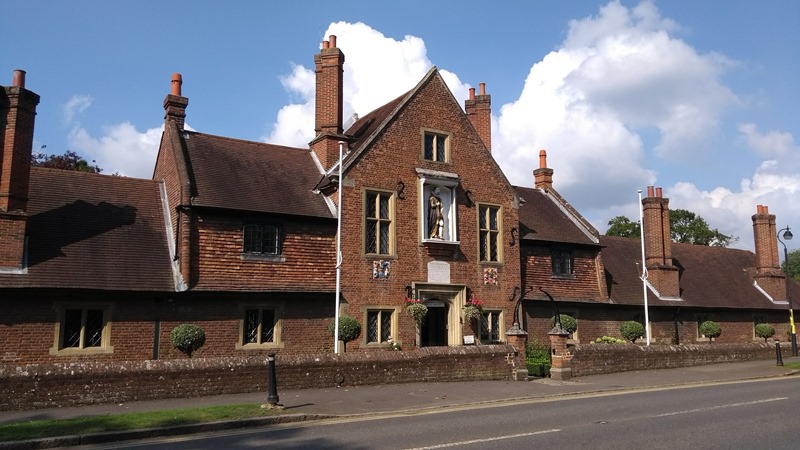 A very impressive building
Unfortunately it was not possible see in the grounds
We cycled a little further along the river on the side opposite the campsite and came to a Marina,
We had a cycle in down to the yacht club it was very posh, just like the ones you see in the Med marinas,
with immaculately dressed waiters preparing the tables with cloths and decor for the early evening meals.
As in our cycling gear we did not fit the dress code and did not want to park our bikes amongst the Ferraris, Jaguars and Bentleys.
We cycled back out of the club and over a different bridge that had no motorised traffic,
then back to the Locks for a little more boat watching before retiring to the site for food and drinks relaxing outside.

© This site is copyrighted, Mal and the Multiday men ©