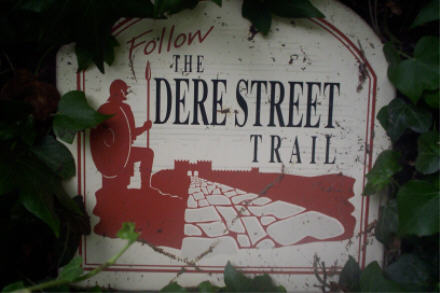 Friday 29th June………….

Railways – Romans – and more Real Ale

I know why the Romans didn't come through Shildon (Busty bank)

We were all up with the larks again and today we were cycling Bishop Auckland to Marton le moor. (My home)
We had arranged to call at Brockwell court, Coundon grange where Mum and Dad live for one of our mother's famous breakfasts.
After a couple of housekeeping duties cycled through the Bishop Auckland rush hour over to Mum and Dads.
Arrived just before 9a m and breakfast was all ready she never lets us down. We had a great meal. Even Karen called in for a Bacon sandwich on her way home from work. It rained heavily while we were eating, then the sun came out and it shone most of the day as we cycled south.
We left around 10.30am and it was to be a 48 mile ride south!!!!!! My guess.
Colin was guide this morning so he decided to go for the easy option and cycle up the longer but less steep Busty bank?
Well if that's the flatter option it caused great debate and whining, lucky we had fuelled well. Then a detour to visit Timothy Hackworth museum, one of the railway pioneers.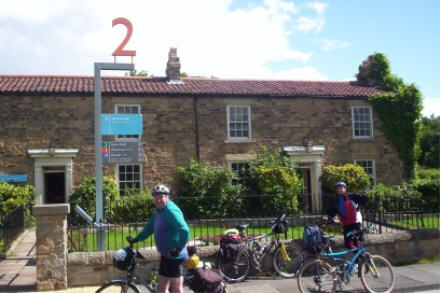 Timothy Hackworth Home and Museum
After a photo stop we edged slowly out of Shildon through Redworth and at last we turned right into Heighington and the quiet country lanes.
We were cycling towards Piercebridge and the next Roman site the Tees Crossing.
Just before Walworth we came across two cyclists a girl and a boy (teenagers) the girl was sitting in the road? We stopped to offer assistance but I think we had stumbled on a lovers tiff?
Nice undulating riding to Piercbridge. Roman camp and sunshine, we had a good stop and explored the camp plus down to the Remains of the Roman bridge. Fascinating stuff. . Bikes (Chariots) Take a Well Earned Rest
| | |
| --- | --- |
| New Bridge | Old Bridge |


Over the bridge we crossed into North Yorkshire. We had ridden this ride in 2000 on our way to Yarm and eventually Humber bridge, we followed the road to Cleasby then turned right towards Barton we were now on virgin land cycling wise.
Onto the old A1. Although a quiet wide road the wind was in our face and the surface was hard to ride on. This was the worst part of the ride for me it seemed for ever till we got through Barton village and onto Middleton Tyas. Once we crested the hill from Barton we had a 5 miles downhill gradient to Scorton, great riding on wonderful quiet country lanes.
Scorton village green cricket field and public loos seemed a good place for a lunch stop and eat our pack up. But lunch stops are never dull for the multidaymen.
As we were eating lunch in a Bus shelter Andy Colley and old cricketing pal drove past recognised me and stopped for a chat.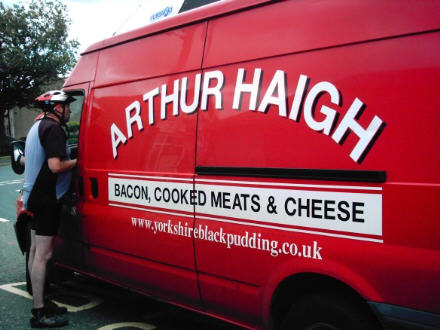 Mal says he was chatting
We reckon he was trying to scrounge a pie
And I lost my cycling gloves? Where had I put them? I convinced myself I had left them in Andy's van. All is revealed later.
So I had to put on a spare pair.
Nice flat ride down Catterick (Another roman site) At Catterick racecourse we discovered that in Roman times it was a site for bear baiting.
A sporting arena for 1500 years.
| | |
| --- | --- |
| Catterick as a sports arena | The Dere street trail |

Then it was my turn to navigate, a nice ride through quiet undulating sleepy North Yorkshire villages,
Hackforth, Crakehall and to Thorp Perrow where we stopped for a tea.
Now the mystery deepens Colin picked up my cycle gloves off the road.
How come. They convinced me Andrew had driven passed and thrown them out of his van, impossible?
But how had they got from Scorton to Thorp Perrow?
They didn't tell me till Saturday night. Read on and you will find out the mystery of the Gloves.
Into Thorp Perrow tea rooms where we ordered tea and cakes. The lady was making up a wonderful tea tray, but Graeme though it was self service and picked up 3 spoons she thought he was stealing them and shouted Ill search you when you leave here, he replied straight back Ill show you how to do it properly. (Prison Officer you see). Well poor girl blushed and was speechless.
Thorp Perrow to Marton le Moor via Well, Carthorpe, Thornborough, Wath, Melmerby. Rainton. All the time flat riding but Colin and Graeme had become obsessed with the daily mileage again I had got it wrong as we cycled I kept readjusting for Colin's detour (web master detour was less than 1 mile)
but still I was going to be way out on my 48 mile forecast.
We cycled into Marton le Moor at 5.15pm after covering 59 miles.
I was wrong again. They didn't let me forget it either.
It was a lovely sunny night we sat in my garden and drank tea and a couple of beers.
Then shower and a night in Ripon. Well a couple of beers (Real Ale in the One Eyed Rat) and Fish and Chips in the Jolly Friar after 59 miles in the saddle we were all ready for bed. Colin drove the my Jag back as he is a none drinker, He enjoyed putting it through its paces on the windy country roads.
Back to my place we watched the Cricket highlights and then out for the count.
© This site is copyrighted, Mal and the Multiday men ©