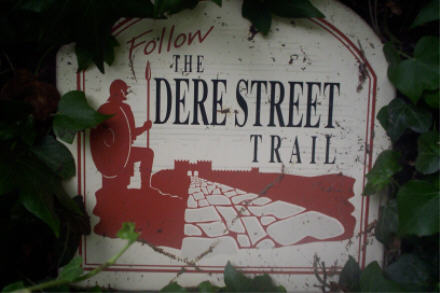 SATURDAY 30th June ………………….

The 9th Legion returns
(No Just 3 Lads out for a bike ride)

I was horrified I had bought bacon eggs sausages, clean sheets, laid the table. And I was still voted the 3rd nay 4th worst B and B on our rides and that was out of 59 visited over the last ten years. (only a joke Mal)
We awoke to persistent light rain, ah well we have cycled in worse, Rain always looks worse through a pane of glass, skins waterproof, we are not made of sugar, those were the comments as we watched it rain as we ate breakfast.
Makes it worse when you are at your own home and you turn out to Cycle 34 miles though,
yes 34 miles was my forecast for today's ride.
Was I right?
We left around 10 am as the rain was easing. As we cycled down to our last Dere Street trail way marker Aldborough Roman Town, unfortunately it was closed so we could only take a photograph

Then down to Dunsforth for the flat ride to York. We have cycled this several times now and we were making great progress.
Aldwark Bridge where we had to have a comfort stop. Well I did, thank God Colin carries a Toilet roll. We have all been there. Mine was a bean field.
Great riding and the rain had virtually stopped. We cycled to Beningbrough hall.

| | |
| --- | --- |
| Approch to Beningbrough Hall | Picnic at Beningbrough Hall |

We stopped and had our flask of hot chocolate, while we rang and got the girls into place. I had to have several calls to Jill to give her directions. Karen (Colin's) was on a Sat Nav and Karen (Graeme's) had arrived in York the night before travelling down with her parents.
Everything was dropping nicely into place for the big finish. The end of our 10th Anniversary ride.
We worked out they were all at the hotel so we rode into York over Clifton ings.
.1 20pm we were by the river at Clifton final calls to the girls to let them know we were ready to come in.
Up Marygate into the throng of Bootham, which feels strange in itself, after miles and miles of quiet country lanes then bang you are in the middle of Tourist land
York city centre on a Saturday.
Did the 9th legion think like this?
Altogether cycle in as a team, we have done this every year keep together lads round towards the Minster very slowly and up to Emperor Constantine Statue right outside the Minster, the pre planned big finish. The Emperor was waiting for us he maybe thought it was the 9th legion returning. Over the years we have taken the same route?
100s of tourists but no Jill or two Karens.mmmmm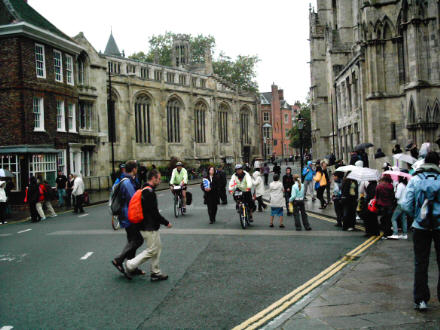 Take 2
We cycled back to Petergate just as we saw them walking up Monkgate. Let's try again. Take 2
We cycled in again to flag waving, champagne photos and cheering. The end of great ride. Lots of tourists looking strangely at us.


A great ride I didn't even notice it was raining.
I can say this now problems free ride no illness or breakdowns.
Mileage that day 28 miles.
Least it was less than the forecast of 34.
Photos and Champagne at the Finish

We all walked back to the hotel, garaged the bikes, then it was a freshen up time long soak in the bath and drinks
That afternoon we all had a stroll round York, a couple of drinks in the Hotel and then change for dinner.
What a great night, nice dinner, speeches, photographs, presentations T shirts and Certificates. We even remembered and toasted absent friends.
The story of the gloves, well Bungious had tucked them under the flap on his panniers. When they fell out on the road he was looking to turn into the tea rooms,
so we picked up the gloves and had him convinced his friend had thrown them out of the van trying to hit Mal as he past, as Mal had made him late for his rounds by talking so long. As Mal had been looking away at the time he nearly convinced himself we were telling the truth.
After the meal when we were sitting in the bar
A smartly dressed lady from Bedford on holiday with her husband was fascinated by what we were doing.
We had a great night that ended sitting in the courtyard under a moonlit sky. Amazing we could do that after a day of rain.
© This site is copyrighted, Mal and the Multiday men ©