Cheddar
Colin and Karen continue touring Britain by bike and Motorhome
Day 2
The route was called the Strawberry line and started just along the road from the site and we joined it at a junction in an industrial estate.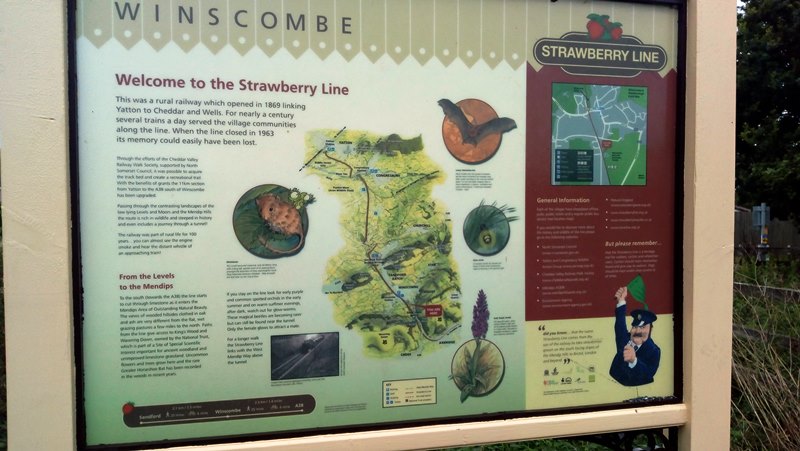 The Strawberry Line
Although it was fine and sunny it had rained over the weekend so we found it a little muddy at the start, but it soon settled into a nice surface track and skirted between the top of Cheddar gorge on our right and a reservoir on our left.
It was not long and the track ended and we had to take the road section into Axebridge.
We found it to be a very scenic old town with a medieval square, and King Johns Hunting Lodge still visible on a corner.
Built in the early Tudor period it is over 500 years old and a wooden framed house that is now a museum.
| | |
| --- | --- |
| King Johns Hunting Lodge | Past the Lodge route goes along an old street. |
We stop in the square to admire it all and check the signs, as usual there is no consistency.
We have been following signs for the Strawberry Line now the signs say "East" and "West"
Even worse the signs are pointing South and North.
Bike Nav says to go past Hunting Lodge and along the street opposite.
We take this road and it is a wonderful street of old buildings, that gently climbs out of the town.
Then across a road and a bit of a climb still on a minor road but at least its signed.
Now signed Sustrans route 26 then at the top of the hill we pick up the off road track again and carry on through some lovely scenery.
We come across a sign warning of a tunnel ahead, that's a new one for the Multiday Men, it recommends to use lights.
| | |
| --- | --- |
| First time I have seen this on my cycling holidays | Karen sorting out care services, never get a complete break. |
Just then Karen's phone rings, its social services about arranging some care for Joyce,
the three original Multiday mens Mum who is now 91.
Karen on holiday but family life still goes on.
We have been trying to arrange this for weeks but government departments work slow.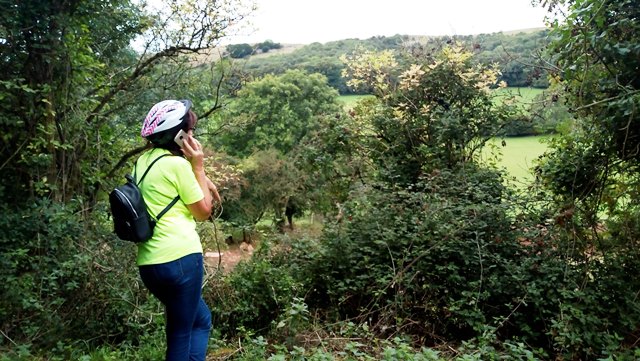 Its quite a long call, Government departments work slow in everyway.
Eventually after lots of explaining and repeating they seem to get the message and we can cycle on.
As we enter the tunnel it grows very dark and we find we do have to put our lights on, to see and be seen.
Just as well as a cyclist coming the other way had no lights and Karen nearly ran into them as they were invisible until only a few yards away.
| | |
| --- | --- |
| The tunnel doesn't look too dark | Colin enters the tunnel |
| | |
| --- | --- |
| Still doesn't look to dark | Very dark when your in the centre |
We soon come to some nice houses and as we are up high on the railway line we have a good view down into the gardens.
Naturally Karen slows up to admire the gardens, furniture and houses,
Think she is mentally storing a few ideas for home.
The houses end and we come to Sandford Railway Centre, its a small station incorporating a museum.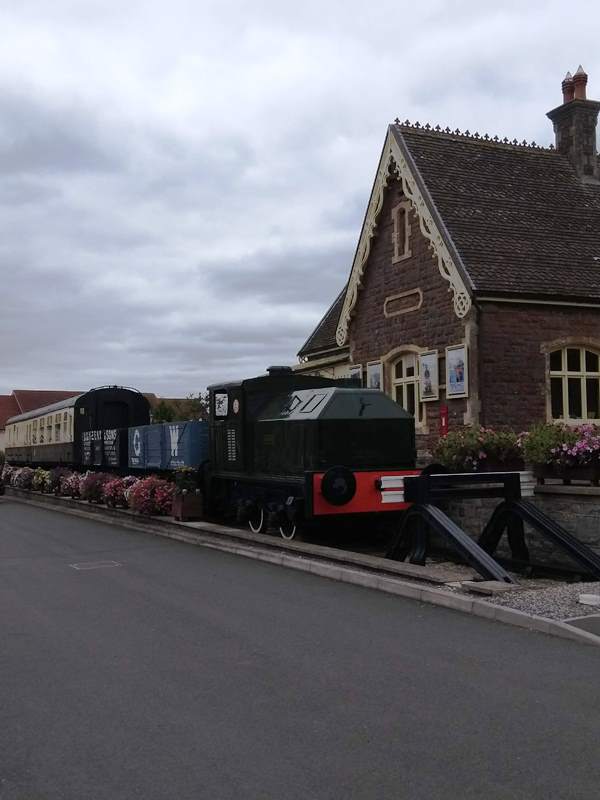 Sandford railway centre

Unfortunately its all closed including the cafe.
Strange thing is all around it has been built new houses in what would have been the station yard.
It looked strange all these new three story houses around the old station.
We cycle on and we come to an apple orchard that's at the back of the Thatcher's cider factory.
The route goes between the orchard and the factory, the trees although not very big are laden with apples,
the branches are bending under the weight, some have fallen onto the ground.
Although there is a lot of cyclists and walkers everyone respects the fruit and no one picks up so much as an apple.
| | |
| --- | --- |
| Lot of apples for a small tree | So tempting to pick the windfall fruit. |
The orchards go on for a few fields and then change to flat grass fields with no hedges only ditches to separate the areas.
The route comes to a road and we have a choice cross and carry on to Yatton,
that's 3 miles further on or follow the road half a mile into Congresbury.
Quick check on Internet shows nothing of interest at Yatton and similar eateries as Congresbury.
We have already covered 10 miles and have to cycle back, its also lunch time so decision made.
Into Congresbury to find that the listed cafes are closed.
At least there is a pub open and they are doing meals.
A cider and a snack then we are refreshed ready to tackle the return journey.
Cycle back to Sandford and make a small detour to the Thatcher's Cider factory,
They have a sampling area so after trying all the ciders I select a nice sweet one.
2.5 litres for £5.95. It was not a lot more for 5 liters but as I only had a back pack the larger bottle would not fit.
As we are retracing our route we come into Axebridge again, this time we decide to have a break and look around the church.
Its set high upon a hillside so we have steps to climb to gain entry.
however it is worth the climb as the interior is very scenic.
| | |
| --- | --- |
| Lovely scenic church | Very ornate interior |
As we come back down the steps a family ask me for directions to the Strawberry Line in the direction of Cheddar,
we had come that way that morning so I could sound very knowledgeable
with accurate directions and descriptions of landmarks.
Coming back into Cheddar we call via the Post Office and supermarket.
Karen had ordered some clothes of the internet and had them delivered to the post office for collection.
Nothing stops her clothes shopping, then to the supermarket for some food for a tea time snack.
20.5 Miles and a great ride.

Email for further information or holiday planning
© This site is copyrighted, Mal and the Multiday men ©